Getting to the Virgin Islands
There are only two ways to get to the Virgin Islands; by air or by sea. Air travel is the most popular choice because it is really the only option for someone who wants to move here. There are no ferries or barges for people between the US mainland and the Virgin Islands. There are barges for cargo.
Travel Documents and Passport Requirements
Air Travel from the US Mainland to the Virgin Islands
There are two major airports in the Virgin Islands; the Cyril E. King Airport on St. Thomas and the Henry E. Rohlsen Airport on St. Croix. St. John and Water Island do not have airports and are connected to St. Thomas via ferries. Ferry service is reliable.
Non-stop service from the US mainland to St. Thomas and St. Croix is available, however most flights will make connections; primarily through San Juan. (San Juan, Puerto Rico is the principle gateway for the Caribbean.) Flights with inter-island carriers may be necessary from San Juan to St. Thomas and St. Croix.
Flying Times from Major Gateways to the USVI
Starting Point
St. Thomas
St. Croix
Miami, Florida
New York, New York
San Francisco, California
Houston, Texas
San Juan, Puerto Rico
2 1/2 hours
3 1/2 hours
10 hours
8 hours
30 minutes
3 hours
4 hours
10.5 hours
8.5 hours
20 minutes
*These are approximate times and are for reference only.
Airlines with service to the U.S.V.I from the mainland include American Airlines, Continental Airlines, Delta Airlines, United Airlines and U.S. Airways.
Moving to the U.S. Virgin Islands?
The Settlers Handbook for the U.S. Virgin Islands is your guide to moving to St. Croix, St. Thomas, St. John and Water Island.
The current 18th Edition, released in January 2016, will help you explore your dream of island living. A solid reference book, it was first published in 1975. That's 40 years of helping people move to the islands. A must read. Order today.
Order Today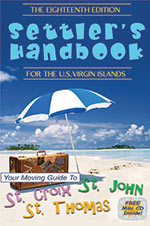 Only $17.95
$18.95
Living In De V.I. - An Introduction for Newcomers (DVD)
General Information: Learn about the territory's weather, language, flora and fauna, government, infrastructure, history, transportation, hospitals, activities and more! Have frequently asked questions answered. 'Can I commute between islands?' 'What are cisterns?' 'Are there snakes?' Enjoy island culture as Alex takes you to local events such as the Carnival. Visit both the St. Thomas and St. Croix campuses of the University of the Virgin Islands.
Buy Now
Advertise
Join VIMovingCenter.com Today!
Tell prospective and current residents about your business.
Proud Supporter
VI Olympic Team
For over 45 years, the Virgin Islands has celebrated the Olympic tradition by sending our athletes to compete.