Contact Us
Hello! You've got a question, comment, or information you want to share with us and we look forward to hearing from you.
Got questions about Moving to the Islands? Try these first:
Join a conversation and ask questions on the Message Board.
Go to VI Traders to order books on living in the USVI.
Want to Advertise your Business?
Please review the Advertising Section. For more information e-mail info@VIMovingCenter.com (include name, telephone number, business name/website and message).
Mailing Address & Telephone Numbers
VI Now & VI Moving Center
P.O. Box 9678
St. Thomas USVI 00801
Tel: (340) 227-8121
Moving to the U.S. Virgin Islands?
The Settlers Handbook for the U.S. Virgin Islands is your guide to moving to St. Croix, St. Thomas, St. John and Water Island.
The current 18th Edition, released in January 2016, will help you explore your dream of island living. A solid reference book, it was first published in 1975. That's 40 years of helping people move to the islands. A must read. Order today.
Order Today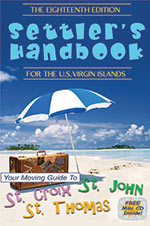 Only $17.95
$15.95
Life in the Left Lane
If you are wondering "What's it really like to live in an island paradise?", then this book is for you! People from all over are naturally lured to the beautiful and bountiful Caribbean - where turquoise seas sparkle, gentle trade winds blow, the lifestyle is easygoing and the people, like the climate, are sunny and warm.
Buy Now
Advertise
Join VIMovingCenter.com Today!
Tell prospective and current residents about your business.
Proud Supporter
VI Olympic Team
For over 45 years, the Virgin Islands has celebrated the Olympic tradition by sending our athletes to compete.