Voting
U.S.V.I. residents who are United States citizens can register to vote in local elections.
Important Points
Suffrage - minimum age 18 years old.

Registered USVI voters cannot vote for president or vice president.

Persons voting in local U.S.V.I elections cannot vote in elections back on the mainland.

You must be a resident to register to vote in the USVI. Residency status for voting purposes is granted after 90 days of living on island.

Registering to vote is free. You will be required to present your social security card, a proof of citizenship in the form of a US passport of an original birth certificate.

For more information contact the Election Office at (340) 774-3107.
Other Information
Governor and lieutenant governor elected on the same ticket by popular vote for four-year terms.

Unicameral Senate - 15 seats, members are elected by popular vote to serve two year terms.

Political parties include Democratic Party, Independent Citizens Movement or ICM and Republican Party.
Moving to the U.S. Virgin Islands?
The Settlers Handbook for the U.S. Virgin Islands is your guide to moving to St. Croix, St. Thomas, St. John and Water Island.
The current 18th Edition, released in January 2016, will help you explore your dream of island living. A solid reference book, it was first published in 1975. That's 40 years of helping people move to the islands. A must read. Order today.
Order Today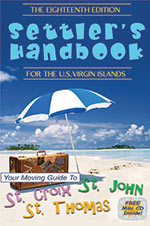 Only $17.95
$11.95
The Wild Life in an Island House
Are you planning to move to the Virgin Islands? Want to learn about the critters that will be sharing the island and maybe your home or apartment with you?
Buy Now
Advertise
Join VIMovingCenter.com Today!
Tell prospective and current residents about your business.
Proud Supporter
VI Olympic Team
For over 45 years, the Virgin Islands has celebrated the Olympic tradition by sending our athletes to compete.