Real Estate
The Virgin Islands; St. Thomas, St. Croix, St. John and Water Island offer a unique opportunity for owning property in the Caribbean. Homes, condos, time-shares and commercial buildings are available. Undeveloped land is available for those that want to build their own Caribbean inspired homes. Financing is available through local banks. There are real estate agents on each island and insurance companies are available to protect your investment. The remaining question is: Which island? Below there are descriptions of the real estate market on each island with links to further information.
St. Thomas
St. Thomas offers both bustling shopping areas and quiet neighborhoods. The island is mountainous and many hillside homes are graced will incredible views of the ocean. The real estate market on St. Thomas includes houses, land, condos, time share and commercial properties. More on St. Thomas Real Estate
St. Croix
St. Croix, the largest of the Virgin Islands, is home to diversification in people, culture, architecture and history. St. Croix's landscape is equally diverse: the topography changes from flat agricultural land to rolling hills; arid areas to lush vegetation; countryside settings to dramatic sea views. Whatever your likes are, there's bound to be an area in St. Croix that appeals to you. The diversity of the island is reflected in the real estate market. Properties of all types can be found on St. Croix including high-end houses, fixer-uppers, condominiums, commercial properties and undeveloped land. More on St. Croix Real Estate
St. John
St. John is unique, it offers the opportunity to own a dream home with magnificent ocean view on an island that is two-thirds protected from development by the National Park Service. Price tags fitting of a dream home nestled on a beautiful, protected Caribbean island are of course attached! The allure of St. John is in the lush green hills and beautiful white sand beaches. The island offers a slow pace of living and is home to a small community of about 4,200 people. More on St. John Real Estate
Water Island
Water Island, located within St. Thomas' Charlotte Amalie harbor, is a 491.5 acre treasure. The small population of fewer then 200 full and part time residents enjoy the tranquility of a largely commercial free island while having the conveniences of developed St. Thomas only a 10 minute boat/ferry ride away.
Water Island's real estate market is small and fairly exclusive. The real estate possibilities are very limited in quantity due to the island's small size and to a very low turnover rate. More on Water Island Real Estate
Moving to the U.S. Virgin Islands?
The Settlers Handbook for the U.S. Virgin Islands is your guide to moving to St. Croix, St. Thomas, St. John and Water Island.
The current 18th Edition, released in January 2016, will help you explore your dream of island living. A solid reference book, it was first published in 1975. That's 40 years of helping people move to the islands. A must read. Order today.
Order Today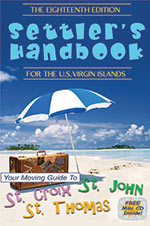 Only $17.95
$11.95
National Geographic Trails Illustrated St. John Map
This is a National Geographic map for the Virgin Islands National Park on St. John, U.S. Virgin Islands. On side 1 is a full map of St. John. Other islands are also included such as Great Thatch, Lovango Cay, Durloe Cays, Leduck Island and the west end of Tortola.
Buy Now
Advertise
Join VIMovingCenter.com Today!
Tell prospective and current residents about your business.
Proud Supporter
VI Olympic Team
For over 45 years, the Virgin Islands has celebrated the Olympic tradition by sending our athletes to compete.