Dance
Business Directory
Pointe Dance Academy
Pointe Dance Academy offers both the Cecchetti and Russian Imperial methods of classical Ballet. Ages three through adults. Certifications Cecchetti LISTD, Cecchetti LUSA, and Russian Imperial United Kingdom and USA. Numerous full length productions of The Nutcracker and Spring Galas have been performed over the past twenty years. Pilates mat and reformer classes are also offered. Certifications in Mat, Props, Studio, and Reformer from Polestar Education and Lolita San Miguel only living elder who was certified by Joseph Pilates. Member of Pilates Method Alliance. Visit our website for more information.
Moving to the U.S. Virgin Islands?
The Settlers Handbook for the U.S. Virgin Islands is your guide to moving to St. Croix, St. Thomas, St. John and Water Island.
The current 18th Edition, released in January 2016, will help you explore your dream of island living. A solid reference book, it was first published in 1975. That's 40 years of helping people move to the islands. A must read. Order today.
Order Today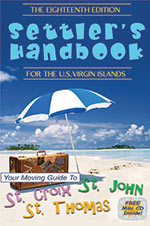 Only $17.95
$18.95
Desiring Paradise: A True Story of Succumbing to the Dream
If you've ever considered moving to the USVI, or if you know someone that wants to, this book is for you. Desiring Paradise is a true story about two New Englanders who followed their dream.
Buy Now
Advertise
Join VIMovingCenter.com Today!
Tell prospective and current residents about your business.
Proud Supporter
VI Olympic Team
For over 45 years, the Virgin Islands has celebrated the Olympic tradition by sending our athletes to compete.