Housing
Business Directory
Casita Properties, LLC
Ideally located, 3 mi. west of Christiansted, furnished efficiency and one bedroom apartments with flexible terms. We are in a residential area, convenient to all of St. Croix. Grocery, banks, restaurants, beaches are 1 to 2 mi. Sunny Isle shops, theater, hospital are about 3 mi. Frederiksted and the East End are easily accessible, 20-30 min., depending on destination. Rates start at $650. Visit our website for info on amenities, rates and pictures.
Hillcrest Guest House
A 300-500 sq. ft. one bedroom apartment with free Wi-Fi, Kitchenette, Air Condition and Cable with ocean views. Three minute walk to Cruz and Frank Bay. Telephone and Cable ready. Free Wi-Fi and three minutes from Cruz Bay. Fully furnished. Gated entrance and screened in Lounge. From $3100 to 4400/month. See website link for information and pictures. Non-smoking. Available to a couple without pets. See website link for information and pictures.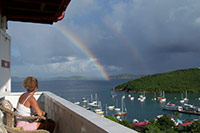 Moving to the U.S. Virgin Islands?
The Settlers Handbook for the U.S. Virgin Islands is your guide to moving to St. Croix, St. Thomas, St. John and Water Island.
The current 18th Edition, released in January 2016, will help you explore your dream of island living. A solid reference book, it was first published in 1975. That's 40 years of helping people move to the islands. A must read. Order today.
Order Today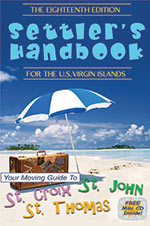 Only $17.95
$15.95
Life in the Left Lane
If you are wondering "What's it really like to live in an island paradise?", then this book is for you! People from all over are naturally lured to the beautiful and bountiful Caribbean - where turquoise seas sparkle, gentle trade winds blow, the lifestyle is easygoing and the people, like the climate, are sunny and warm.
Buy Now
Advertise
Join VIMovingCenter.com Today!
Tell prospective and current residents about your business.
Proud Supporter
VI Olympic Team
For over 45 years, the Virgin Islands has celebrated the Olympic tradition by sending our athletes to compete.