Insurance
Business Directory
Guardian Insurance
The largest automobile insurance carrier and among the largest providers of property and casualty insurance in the USVI. Committed to providing customers with the unmatched support that has been our hallmark since our inception in 1984. Our policies are parallel to the best coverage by other carriers found across the U.S offering bodily injury liability, property damage liability, property damage, medical payments liability, comprehensive physical damage insurance, collision insurance, and uninsured motorist protection. Our professional and friendly agents are ready to deliver the quality & service you expect. Automobile liability insurance is mandated by law in the USVI.
Moving to the U.S. Virgin Islands?
The Settlers Handbook for the U.S. Virgin Islands is your guide to moving to St. Croix, St. Thomas, St. John and Water Island.
The current 18th Edition, released in January 2016, will help you explore your dream of island living. A solid reference book, it was first published in 1975. That's 40 years of helping people move to the islands. A must read. Order today.
Order Today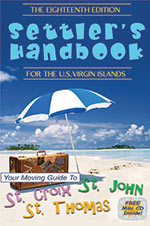 Only $17.95
$18.95
Desiring Paradise: A True Story of Succumbing to the Dream
If you've ever considered moving to the USVI, or if you know someone that wants to, this book is for you. Desiring Paradise is a true story about two New Englanders who followed their dream.
Buy Now
Advertise
Join VIMovingCenter.com Today!
Tell prospective and current residents about your business.
Proud Supporter
VI Olympic Team
For over 45 years, the Virgin Islands has celebrated the Olympic tradition by sending our athletes to compete.