Pet Services
Business Directory
GO2 Charters
Whether you are vacationing, day-tripping, or relocating to the Caribbean, GO2 Charters has a solution for you. We are committed to providing our clients with superior customer service and a personalized approach to air travel. Having trouble moving with your beloved pet with the restrictions of the major airlines? Ask about our ShareFlight Program - a cost-saving way to travel safely and conveniently with your furry friend right by your side. Whether it's a day excursion to paradises like Anegada or Vieques, an aerial tour, or a transfer to the BVI, GO2 Charters will arrange the most appropriate and cost-effective aircraft to fit your needs. Email us for more information.
Moving to the U.S. Virgin Islands?
The Settlers Handbook for the U.S. Virgin Islands is your guide to moving to St. Croix, St. Thomas, St. John and Water Island.
The current 18th Edition, released in January 2016, will help you explore your dream of island living. A solid reference book, it was first published in 1975. That's 40 years of helping people move to the islands. A must read. Order today.
Order Today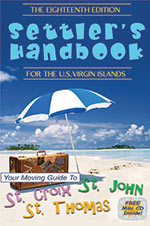 Only $17.95
$18.95
Living In De V.I. - An Introduction for Newcomers (DVD)
General Information: Learn about the territory's weather, language, flora and fauna, government, infrastructure, history, transportation, hospitals, activities and more! Have frequently asked questions answered. 'Can I commute between islands?' 'What are cisterns?' 'Are there snakes?' Enjoy island culture as Alex takes you to local events such as the Carnival. Visit both the St. Thomas and St. Croix campuses of the University of the Virgin Islands.
Buy Now
Advertise
Join VIMovingCenter.com Today!
Tell prospective and current residents about your business.
Proud Supporter
VI Olympic Team
For over 45 years, the Virgin Islands has celebrated the Olympic tradition by sending our athletes to compete.