Real Estate
Business Directory
Team San Martin, RE/MAX St Croix
Why Choose Team San Martin? Market and Industry Knowledge! Joe and Julie have been St Croix real estate innovators since 1984. We know the island, neighborhood by neighborhood. We know where we are going before we take you there. We constantly improve our skills and keep ahead of new marketing and technology strategies. We spend meaningful time with you to identify your needs; and explain the entire process, to avoid surprises along the way. Our relationship does not end at closing; we offer on-going support for all your real estate needs. Your personal real estate advisors! Team San Martin. Teamwork makes Dreams work!
Coldwell Banker St. Croix Realty
Your St Croix Real Estate experts, Coldwell Banker St. Croix Realty is a full service agency for both property and home purchases and holiday or long-term rentals. We offer an array of luxury villas, condos, homes and vacant homesites where you can build your dream home in America's Paradise The largest and most rural and residential of the U.S. Virgin Islands, St. Croix covers 84 square miles. There are many varieties of St. Croix property, which can range from a beachfront property to a mountaintop villa or a condo on the harbor, and more. Please contact us by phone, e-mail, or visit Coldwell Banker St. Croix Realty online.
Moving to the U.S. Virgin Islands?
The Settlers Handbook for the U.S. Virgin Islands is your guide to moving to St. Croix, St. Thomas, St. John and Water Island.
The current 18th Edition, released in January 2016, will help you explore your dream of island living. A solid reference book, it was first published in 1975. That's 40 years of helping people move to the islands. A must read. Order today.
Order Today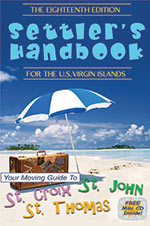 Only $17.95
$11.95
The Wild Life in an Island House
Are you planning to move to the Virgin Islands? Want to learn about the critters that will be sharing the island and maybe your home or apartment with you?
Buy Now
Advertise
Join VIMovingCenter.com Today!
Tell prospective and current residents about your business.
Proud Supporter
VI Olympic Team
For over 45 years, the Virgin Islands has celebrated the Olympic tradition by sending our athletes to compete.