Re: Best Neighborhoods in STT & STX
Registered: 12 years ago
Posts: 72
Quote
Dan.Stutzman
Hello,

We are looking at real estate and we have seen some really nice areas and we wondering for those that live here or have had lived here, what area would you go to if you had the chance?

STX Choices for full time living:
1. Carambola near the sea
2. North shore/Cane bay
3. Rain forest area

I find the gringo settlement patterns on STX baffling. The typical gringo idea of Caribbean tropical paradise is palm laden, lush and green. On most islands with a climate choice, green attracts the monied classes. The desert is where the poor people live. On STX it's somewhat reversed. The most verdant beautiful tropical landscape is either unoccupied or occupied by lower income folks. The desert cactus part of the island is deemed by many higher income types, with options, as the most desirable on STX. Go figure?
Re: Best Neighborhoods in STT & STX
Registered: 11 years ago
Posts: 2,584
I have to agree. When we were looking for a house we had two realtors. Both did not want to show us properties on the west side of the island even though we asked. We were told that we didn't look like west end people. I look at people who live west all the time and I still can't figure that one out.
Re: Best Neighborhoods in STT & STX
Betty
August 25, 2009 05:11PM
Registered: 11 years ago
Posts: 2,047
Another reason you should live here for a year and rent before you buy.

Everyone likes a different area and it takes time to figure out if you like the rock and which area you will like the best. I like center best but bought east for better resale value. I live west, center and east and I know its not a perception that crime is worse west, its real.
Re: Best Neighborhoods in STT & STX
trw
August 25, 2009 05:15PM
Registered: 11 years ago
Posts: 2,707
i beg to differ betty, the north shore gets a bad rap but only because the bars get hit so what, thats what happens,it's expected you only wonder when not if,the dude that hit my house is someone i know, not a stranger so it doesn't count, we have almost no house crime up here,the east end gets hit alot more than the north shore ever will,i still say this area is one of the safest places i've ever lived
Re: Best Neighborhoods in STT & STX
trw
August 25, 2009 05:22PM
Registered: 11 years ago
Posts: 2,707
Re: Best Neighborhoods in STT & STX
Registered: 10 years ago
Posts: 342
I live here. I mean, really LIVE here. Full time. I am also busy... I have a lot of projects that take me all over the island, and I like to eat out often, and I like to dine with friends and go to events. That's my lifestyle. Often, in the evenings... I don't just come home and stay home... I tend to 'go out' a lot.

I rented in Carambola for awhile when I first got here. I don't golf. Most of my friends live in the Christiansted area. It took me about 3 weeks to realize that there was no way I wanted to live 'WAY' out there because the daily drive is just too much... for me. However, it I was more of a home body I know I would love it there and even more so if I golfed.

Similarily I have friends who live way East (past Carden is way east to me) and they admit that when they get home in the evenings, they often just stay there because the thought of driving back in to town for a cocktail, dinner, or a movie is just too far.

So, since you asked for a personal opinion... if I was shopping for a home here and I was going to LIVE here full timel like I do... I would live no further west than St. John (Country Day School area) and no further east than Carden Beach. I would not live on the beach (although I love the sound)... too tight and too much salt and rust... I love Queens Quarters... which is a modest housing community right in the middle of the island with everything close by but with some great vistas and beautiful grounds. Princess and St. John are great local neighborhoods as is Tipperary, Seven Hills, Herman Hill, Rosegate, Beeston Hill, Constitution Hill, etc...... all with reasonable drives to Sunny Isle, Grocery Stores, downtown, etc.

None of this has to do with crime or the color or social status of the neighbors... it has to do with convenience. for my lifestyle and how I want to live. This is just my opinion. I have friends who would argue all night, and have (and have good points)... that West is Best... North Shore is worth more...Way East can't be beat and so on.


for me... I'm lucky... we bought without knowing the island or what our lifestyle was going to be like... we just fell in love with the property... and fortunately it turned out to be smack dab in the middle of everything and perfect for our lifestyle.

Oh... and since the subject includes STT... sorry St. Thomians... I know I'm biased, but, I wouldn't live there. I prefer to visit.
Re: Best Neighborhoods in STT & STX
Betty
August 26, 2009 11:14AM
Registered: 11 years ago
Posts: 2,047
I agree with everything Limetime said except, Queens Quarter is not really modest (its middle to upper middle class prices $400k and up). Ruby below it is what you might be thinking of. Most of St john area is dangerous or rather you couldn't pay me to walk around there at night. The Condos in St John are nice and so's Hibicisus but its not the best neighborhood at all. Parts of little princess and la grande princess are as well. But I want a house up in the hills of la grande princess, orange grove or beston hill one day. And all three of those have bad areas as well. Unless you live in Judith's Fancy, Carden Beach, Shoys or far east, you're going to be hard pressed to find a neighborhood that doesn't have a little bad with the good.
Re: Best Neighborhoods in STT & STX
Registered: 12 years ago
Posts: 1,428
Dan - you can see that there are as many opinions about the best sector of the island to live in as there are people voicing them. Neighborhood selection is a very personal thing and varies due to a lot of different factors.

Couples with children often prefer the gated neighborhoods or condo complexes where their children will have other kids in close proximity and people to carpool with when transferring kids to school. If you don't have children, this wouldn't be a factor but if you do then living at the extreme east end of the island will mean a LOT of added driving as the main two private schools are located at the center of the island (Country Day) and the southwest shore (Good Hope).

New arrivals often tend to cluster with other expats for their first year or two on the island. It's also pretty common for some people who have been here a year or longer to find they absolutely love the north shore or west end and to find their niche there, leaving the east end behind.

If you will be working on the island, you probably want to find a neighborhood you feel comfortable in that is in reasonable proximity to your most likely work site. The island is small, and yet you will find that the longer you live here the smaller your world shrinks and the more you begin to object to driving beyond certain landmarks. For east enders, many object to driving "all the way to Sunny Isle", for example. Living in the center third of the island helps keep this from limiting the percentage of the island you will explore and include in your regular life and activities.

Most of the beach bars on the island are largely patronized by expats/Continentals/relocatees/Contractors and tourists. (These are a variety of terms you will hear often that generally refer to people who have moved here from the mainland or Europe, etc. Other common terms for Caribbean origin include Locals and Downislanders, among others.) You will see some of the local population in the beach bars, but the bulk of the customers will be Continentals the majority of the time. This is also true of many of the restaurants in Christiansted as the local culture is more likely to see familes at home dining together at night rather than going into town for an expensive meal. The bars in the neighborhoods around the island are more likely to be patronized by the residents of the local neighborhood and rarely by tourists. The hotel bars are largely tourist hang-outs and yet some are also popular with both Continentals and Locals, especially the ones right in downtown or close to town such as Rumrunners at the Caravelle Hotel and Christine's/H2O at the Hibiscus Resort.

Buck Island can actually be seen from a lot of areas on the north shore and up on the ridge lines even from western sectors of the island. Some of the very best breathtaking views are from the Clairmont area on Scenic Drive, as the entire island lays out before you and you can see both shores, Salt River, Christiansted, Buck Island, Green Cay, and more. Some of the best views of Buck are from the Judith's Fancy neighborhood. This view would also include Christiansted Harbor and the breeze from the east is highly desirable. Salt Spray is an issue to consider, yet the higher you get on the hillside the less of direct spray you get. Anywhere on the island will have corrosion issues from the salt content in the air since nowhere is more than 3 miles from the Caribbean on an island that is at most 6 miles across north to south. There are many lifestyle expectations to take into consideration when evaluating which area of the island will best suit your personal needs.

If you do opt for the east end, the local hang-outs in that third of the island are primarily:
Cheeseburgers in America's Paradise (watch out for the mosquitos and no-see-ums, but a very popular place)
Mahi's at Chenay (new and going strong - becoming quite popular)
Cultured Pelican at Coakley Bay Condos (not heavily used, but available)
Chicken Charlie's by the Solitude Store
Duggan's Reef Restaurant
The Divi Hotel's restaurant and beach bar plus the bar at the casino
Southshore Cafe by the south shore salt pond
Galleon Restaurant at Green Cay Marina
Deep End Bar at Green Cay Marina

Most people wind up having 1-4 favorite beaches around the island where they spend their time hanging out with friends. New arrivals should explore the various options and they are sure to find places they feel they fit in the best. Favorite beaches are not always in close proximity to where you live. Very few people actually use the beach right by where they live unless they are very fortunate in their location.

As a Realtor, I drive an SUV, yet it doesn't have 4WD. There have been a few times on remote roads I would have liked it, but managed without. There are some sections of Scenic Drive and the dirt trails to the Tide Pools where 4WD would be necessary. There are a few private roads to homes up in the hills where heavy rain washes out parts of the road or creates runnels along it that can be hazardous. If you opt for a home on such a road, then a 4WD would be wise. Otherwise, a mid-size SUV is generally completely sufficient. If you will only be driving on the paved roads, a mid-size car works for many as well. Be prepared for the fact that you go through more tires and brakes here than you are used to on the mainland.

For boating, there is a lot more sailing that occurs in the STT, STJ, BVI cluster of islands than on St. Croix. There are marinas here and lots of people who enjoy spending time on their boats. The most frequent boat outing for STX boaters is a daytrip out to Buck Island or to SCUBA dive, although there are also regattas and other activities available. A typical sailboat takes 5-7 hours to make the crossing from STX to STT if you want to go sailing in the BVI's for a long weekend or a week or two. It's not insurmountable, yet isn't something you do just for a day trip. The marina fees are pretty high. Expect $20 per foot per month at Green Cay for boat storage or $25 for liveaboards plus metered power and water. It is possible to get a DPNR mooring permit for a few hundred a year plus the cost of installing the mooring with sand screws, etc... provided you can find a vacant location that can be approved by DPNR. There is an active boating community on St. Croix and there is a Captain's School that comes here from Florida usually twice a year to offer the classes necessary to complete a Coast Guard issued Merchant Mariner's license both for 6-pak and Master's Captain's licenses if you are so inclined to take the course. If you are already a captain, they also offer the ongoing course requirements to keep current for your next renewal.

Alexandra Bentley
Great House Real Estate
St. Croix, USVI
Join the discussion. Click the button below to Login or Register now!
Moving to the U.S. Virgin Islands?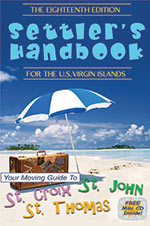 Only $17.95
The Settlers Handbook for the U.S. Virgin Islands is your guide to moving to St. Croix, St. Thomas, St. John and Water Island.
The current 18th Edition, released in January 2016, will help you explore your dream of island living. A solid reference book, it was first published in 1975. That's 40 years of helping people move to the islands. A must read. Order today.
Order Today
Advertise
Join VIMovingCenter.com Today!
Tell prospective and current residents about your business.
Proud Supporter
VI Olympic Team
For over 45 years, the Virgin Islands has celebrated the Olympic tradition by sending our athletes to compete.