Difference in the 3 Islands?
Can maybe some of the locals of St. Thomas, St. Johns or St. Croix explain the differences of the 3 Islands. Would also like input from those who have been to the Islands on vacation and why they go to one specific island over another one.
I know St. Croix is the largest. We are planning a vacation to the Islands in about 6 months and to determine if maybe that is a place of retirement possibly one day.
What about bars/restaurants for outside seating to have a cold beer and hang out?
We are looking to stay at a villa and I will look at all the options for those. Would like to stay at a villa that is very near to beach, but is within walking distance to some place we can wear our shorts and sit outside to have a burger & beer and watch the sun set in the evening. I'm sure all this info is on this message board somewhere and I will keep reading, but would like opinions on the differences between the 3 islands.
Please & Thank You.
Re: Difference in the 3 Islands?
Ric
July 10, 2003 10:35PM
We have been to St John three times. It is very beautiful and also very expensive. 2/3 of the island is National Park, so the price of real estate is very high. Every beach we have seen is drop dead gorgeous. The snorkeling is to die for. Lots of interesting and fun places to eat and drink. The villas that we stayed at are up on hills overlooking the bays. High is good because of the breeze. St John is very quiet and sedate for the most part. You must consider the fact that neither my wife nor I are party animals and were usually back to the villa by 10:00 at night.

Having said that, next month we are retiring to St Croix. We found St John a great place for vacation, but felt St Croix was a better place for us to live. It has the built up commercial area that has most of our living needs. The two towns on the island have some interesting places to shop and eat. We found several restaurants that we loved. It also has a rural part with wide open spaces (for an island). We found several places where the snorkeling was at least as good as St John. There is a casino, if you're into that. There is also a horse track that runs sometimes.

Having lived all our married lives in either the city or the suburbs, we felt St John would also be severe culture shock. St Croix is more like we're accustomed to. St Croix has some problems and gets a bad rap from a lot of people. The economy is down right now, so crime is up. Those statistics are all relative though. Compared to a US city, crime isn't bad at all.

Hope this helps at least a little. If you think I can help with more questions, email me. However, there are lots of folks on this board more qualified to answer your questions than I am.
Re: Difference in the 3 Islands?
Chris Cody
July 11, 2003 11:12AM
I grew up in the Twin Cities and I have no problem with St. John.
Did you consider crime when choosing your island?
There is a night life on STJ, it just isnt as big, especially in the offseason. But you get to know most everyone.
Locals like offseason because we get most of the island to ourselves.
I think I heard some where that over a million people visit St. John a year.
Obviously, St. John ismore expensive but if you were buying a luxury car verses an economy car and could afford both, wouldnt you rather have the Luxury car? The beaches are better, it is more virgin with the park, and it is quiet. If you want to go to the big city, take a fifteen minute, three dollar ferry ride to St. Thomas. Most of us just take the car ferry over to STT for supplies and load it up and come back to STJ. If you do that every 4-6 weeks, it saves you some cash. It's like living on an island suburb.
Often, on my days off, I'll go over to STT for shopping, food, or fun. On STX, you are stuck on STX unless you rent or own a boat or take a sea plane. Stx isnt very close to the other virgin islands. If you live on Stj, you always have the option of going to STT or a BVI isnt too far away. I went to tortola the other day and it was great.
Re: Difference in the 3 Islands?
Thanks very much for the info and opinions. I think St. Johns would be great for a visit, but just not too sure about living there because of the inconvience. However, it doesn't sound too bad about going over by ferry to STT to get supplies.
I grew up in Dallas/Fort Worth area and although my dream has always been to live on the islands or beach enviornment, I know there will be some adjustments.
Chris, what type of work do you do and whatever made you move from the twin cities to STJ? Just curious. It is intriguing to me what makes a person make these type of moves. I was not aware that STX was not in close distance to the other islands. That's good info.
Re: Difference in the 3 Islands?
Chris Cody
July 11, 2003 12:50PM
I am a chef at Chloe's and Bernard's in the Westin.
I got offered a job from Consolidated Resources which owns four restaurants and fine dining opportunities. I was bored with turn and burn steakhouses and wanted more culture. Down here, you get people from all over the states as well as carribean and some europeans. There is tons of culture. STT never enticed me because if I wanted to live city life in the tropics, I would move to puerto rico or florida. STJ is a place where you can go over to STT if you want but you can escape the hussle and bussle. I guess the north end of STT is nice and quiet but I like an island that is vertually crime free and not ruined by developement and overcrowding. No low riding cars blaring music and road racing down the main strip, except in cruz bay where the occasional car from STT has come over on the car barge to create a stir. Also, with the age of the internet, you can order most anything you want online and pick it up at the post office. It's adjustments but we dont go without. Basically, you learn to wait for some things. Back in the states, everyone is in such a rush and so unwilling to wait that life passes you by.
You don't see the hummingbirds or the beautiful flowers or clean air, you just take everything for granted and want everything now. "OMG, I WAITED FIFTEEN MINUTES AT MCD's, the lines were SOOO LONG! " Well, down here, you might complain about a line but arent surprised too much. Your life is simplified and slowed down. Days melt into weeks and weeks melt into months. I would bet there are a few people in Coral Bay that might not know what year it is. Is that a bad thing to slow down and smell the Jasmine?
Re: Difference in the 3 Islands?
linda
July 11, 2003 09:57PM
i couln't agree with ric more.. not everyone can afford to live or buy property in stj not that it isn't one of the most beautiful places in the world..stx has and few peole realize some amazingingly beautiful rural areas farm land s etc. horses grazing by the sides of the road but please don't let our secrets out
Re: Difference in the 3 Islands?
Islander
July 13, 2003 07:51PM
Hello,

Might I suggest you read through the descriptions written about each island in both the travel and moving guides on this web site. If you scroll to the top of this page you will see the various options. Also you should order a Vacation Planning Kit - it includes magazines and booklets about all the VI and has many color photos and descriptions and will help you visualize the differences between the islands.

Having been to all 4 USVI islands I would add...

Water Island is small, small population, just about 160 people. No commerce, a few nice villas. A beautiful beach. It is really good for someone who wants quiet, real quiet with no commercial activity - everythink St., Thomas offers is a short ferry ride away.

St. Thomas has a busy feel in town and the more developed area, but you can get away from that once you head out to the "country" areas. Great shopping and a large variety. Lots of restuarants and accomodation options.

St. Croix offers more outdoor nature things in my opionion - as you can do horseback in the "rainforest" hike, during turtle breathing season you can take quided educational trips to see that, there is the watersports as well. Its both quiet and happening as it is a larger island so lends itself to having both atmospheres. It has quite a few great restaurants. Nightlife is relatively quiet however there are outdoor music events from time to time and bars that have live performances also.

St. John is a relaxing retreat. The National Park lands are beautiful. There are lots of oppurtunities to hike, swim and do watersports activities.

Also in visiting St. Thomas or St. John you can easily take the ferry between the two. St. Croix you can day trip to St. Thomas as well by seaplane if you wish to do so.

I very much have enjoyed visits to St. Croix. St. John I have enjoyed on day trips from St. Thomas - but expect that if someone was looking for quiet relaxation that staying in a villas there and taking in the island atmosphere it would be just as rewarding for an extended visit.

Get the vacation kit I suggested - you can order it from [www.vitraders.com] and in the navigation select vacation kit... it will help a lot.

--Islander
Join the discussion. Click the button below to Login or Register now!
Moving to the U.S. Virgin Islands?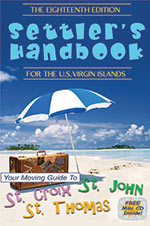 Only $17.95
The Settlers Handbook for the U.S. Virgin Islands is your guide to moving to St. Croix, St. Thomas, St. John and Water Island.
The current 18th Edition, released in January 2016, will help you explore your dream of island living. A solid reference book, it was first published in 1975. That's 40 years of helping people move to the islands. A must read. Order today.
Order Today
Advertise
Join VIMovingCenter.com Today!
Tell prospective and current residents about your business.
Proud Supporter
VI Olympic Team
For over 45 years, the Virgin Islands has celebrated the Olympic tradition by sending our athletes to compete.