Water Island living/moving
Registered: 10 years ago
Posts: 22
Good Afternoon all,

I was curious about moving to and living on Water Island and a few questions popped up during my research.

Is it practical to commute to STT? I noticed the ferry schedule to the island stops at 6pmsih which seems rather tight to me.
Is there long term parking on STT side where one could leave a car?
What is the homeowners fee for Sprat Bay?
Is insurance costs significantly different than STT or STJ?
One website had a floorplan for old military housing. Do these exist still as condos or apts or did they get remodeled or bulldozed?
I also read of golf cart roads -- are areas inaccessible by regular width cars? Should one even bother with anything but a mini or electric?
Should one budget for a commuter boat in lieu of a car?
Are there local EMTs, police or fire or do they come from STT?
This has been bugging me -- how do shippping containers, cars, etc get on the island if there is no car ferry?
Any other moving to Water Island pointers? (I understand there are next to no amenities on the island so no need to caution about that.)

Thank you,
Artifact
Re: Water Island living/moving
Registered: 12 years ago
Posts: 1,866
If you work on STT you'll probably need your own boat because the ferry runs limited hours. You can park your car at Crown Bay Marina for a monthly fee. EMT, fire and police don't service WI, though I suppose if there were a murder on WI the cops would "investigate." You have to pay to have a car or shipping container or water (when your cistern runs dry) barged to WI. If the public housing slated to be built on WI ever comes to fruition, ferry service, police service, etc. will likely follow. When we wanted to move from the states to the VI we came down to look at a particular house on WI and a particular house on STJ. We opted instead to buy on STT because both WI and STJ seemed to make it even more inconvenient and challenging to live in the VI.



Edited 1 time(s). Last edit at 04/04/2008 06:22PM by dntw8up.
Re: Water Island living/moving
Registered: 11 years ago
Posts: 411
To Artifact
Go the the top of this page and do a search for "Water Island" you will get more information than you can read in one sitting.

Also search for postings by "Fl Barrier Islander" . This poster has a house on Water Island and has shared many experiences good and bad about life there. One particular one about transporting new truck tires in their dinghy was both entertaining and frightening.

Good Luck
Re: Water Island living/moving
Registered: 13 years ago
Posts: 501
Artifact, I'll try to provide my opinion though know that I do not live on WI full time.

Is it practical to commute to STT? I noticed the ferry schedule to the island stops at 6pmsih which seems rather tight to me. FLBI Opinion: Depending on your job, you could depend on the WI ferry to get to/from work. Many full time residents on WI go to school and work and depend on the WI ferry.

Is there long term parking on STT side where one could leave a car? FLBI Opinion: You can, for a monthly fee and sometimes depends on season/availability, park your car in secured area in Crown Bay Marina. Many residents also use the parking area below Nisky Center though this is not sanctioned and you would want to have an island beater car as Nisky Ctr parking (below the gym) is not secure.

What is the homeowners fee for Sprat Bay? FLBI Opinion: I have no idea. However, I don't think there are any monthly rental units in Sprat Bay......but if you're looking to buy a home, real estate agent definitely would be able to tell you that information. My neighbor, real estate agent, has homes listed on Water Island including in Sprat Bay and I'd be happy to provide you his contact information. Just PM me.

Is insurance costs significantly different than STT or STJ? FLBI Opinion: I don't believe costs are going to be affected/influenced because you have a home on WI. We have all the usual theft, fire, etc. for very affordable rate. Storm insurance is just as ridiculously high for homes on WI as on STT or STJ.

One website had a floorplan for old military housing. Do these exist still as condos or apts or did they get remodeled or bulldozed? FLBI Opinion: Yes. There are military housing that has been converted into residences or rental cottages. Limestone Terrace used to be military barracks and recently sold and new owners are restoring/fixing it up....I suspect they will offer either vacation or monthly rentals when they're done. Providence Point has old military housing and the owner rents those either vacation or monthly. The Casa are 8 or 9 apartments also old military housing that provide monthly rentals when available. . The Casa's are managed by my property manager so if you're interested in those I can provide contact information. Just send a PM to me.

I also read of golf cart roads -- are areas inaccessible by regular width cars? Should one even bother with anything but a mini or electric? FLBI Opinion: We have a 4x4 crew cab truck and many other residents have regular width cars or trucks. There are more and more golf carts appearing on the island. We opted for regular gas powered vehicle for many reasons (1) we need a trailer hitch and vehicle must be able to pull trailer/dinghy. (2) Our home is at the end of Lookout Point Road and to get there the terrain can be "holey", steep, ....need the power of a vehicle. (3) We offer our home as vacation rental and transportation on Water Island is included....electric golf carts are not practicle in our opinion for renters because.....electric is not enough 'poop' to get up those hills, renters (not all!) don't realize that tho speeding thru mud puddles is fun, it also kills electrical components.

Should one budget for a commuter boat in lieu of a car? FLBI Opinion: We have a dinghy because we like the convenience to come/go as we please as well as not have the expense of the ferry all the time. If you live there full time you can put a screw or dock in the deep water marina and tie your boat up (talk it up with the local residents first) and/or you can tie your boat up to the "temporary" ferry dock...."temporary" meaning it's been there since 1995 Hurricane Marilyn but they just announced the "permanent" ferry dock that was supposed to be done last year is going to open earlier thay expected (April/2008) because the "temporary" dock is in such bad/unsafe condition. Govt is supposed to then take the 'temporary' dock away to fix it then bring it back and it will be used for residents to tie up their dinghys......hopefully we will see that temp dock return in my lifetime


Are there local EMTs, police or fire or do they come from STT? FLBI Opinion: We have a Dr in residence on WI, defibrilators, ambulance, and organized staff of volunteers (WISAR) who are on call 24x7 with cell phones/pagers. They have an ambulance boat as well to get to/from STT. Police do come over whenever.....very rare....there's trouble and if the residents call them. Though, in the last 5 years the only two incidents have been related to a couple of mentally unstable (separate incidents) lost souls who wound up on WI, disoriented, dehydrated, etc.

This has been bugging me -- how do shippping containers, cars, etc get on the island if there is no car ferry?
Any other moving to Water Island pointers? (I understand there are next to no amenities on the island so no need to caution about that.) FLBI Opinion: Previously there was only one option to barge stuff over to WI but now there are two options and the latest is very economical who does provide car ferry. Don't think you'd want to use car ferry EVERY day ($) but definitely affordable to take a trip or two a month to STT and ferry your car. We now have two gas trucks coming over to WI twice a month and residents are able to get their vehicles, cans, etc. filled up. It's great! The costs is just the charge for the gas/per gallon and last I heard they were charging the same rates as Crown Bay Marina.....tho, the gas truck owner gets his gas for less the agreement was to charge same/simiar as Crown Bay so the guy could make up the cost of transporting his truck. Propane....we just dinghy over to Krum Bay and walk to the place.....that reminds me....you can't put flamable stuff (gas, propane, etc.) on the WI people ferry (for obvious reasons). If you don't have dinghy or boat transportation there's a local kid that picks up the propane on Thursdays (for residents who leave the propane can and drop $ in a lock box) and takes them to STT for fill up and then returns them to same place he picked them up on WI. ....Water Island is quirky / eccentric and yeah, inconvenient at times but it's quiet and being there is a hoot! I love it! But, it's not for everyone for sure.

Hope this helps.
Re: Water Island living/moving
Registered: 3 years ago
Posts: 11
In answer to your question about getting a car on the island, it can and does get done. As others have mentioned there are limits on the ferry's accessibility, but some auto movers make special trips for deliveries in the area. Not sure where you're moving from, but I know that this https://www.a1autotransport.com/ship-car-to-the-virgin-islands.php is one option if you're coming from North America.
Re: Water Island living/moving
Registered: 13 years ago
Posts: 501
oh my. Dredging up relics from the past. Some things change. Most things stay the same at least for now. Water Island is bracing for big changes with the proposed resort/hotel.

[www.waterislandwica.com]


"WIDC is currently planning our first community meeting. It will be held on Sunday, February 8th from 11 am – 1pm.
Location – old hotel tennis court.
The meeting will include lunch and refreshments as well as a presentation by WIDC. There will be time for informal discussion with WIDC partners and viewing of the conceptual plans. All interested parties are welcome."
Join the discussion. Click the button below to Login or Register now!
Moving to the U.S. Virgin Islands?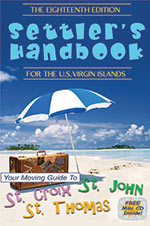 Only $17.95
The Settlers Handbook for the U.S. Virgin Islands is your guide to moving to St. Croix, St. Thomas, St. John and Water Island.
The current 18th Edition, released in January 2016, will help you explore your dream of island living. A solid reference book, it was first published in 1975. That's 40 years of helping people move to the islands. A must read. Order today.
Order Today
Advertise
Join VIMovingCenter.com Today!
Tell prospective and current residents about your business.
Proud Supporter
VI Olympic Team
For over 45 years, the Virgin Islands has celebrated the Olympic tradition by sending our athletes to compete.