Re: Violence in the USVI: an anthropological explanation
Registered: 7 years ago
Posts: 249
Re: Violence in the USVI: an anthropological explanation
Matt T
September 10, 2015 01:07PM
Registered: 12 years ago
Posts: 261
There are a lot of different directions to go here in this discussion.

First off to address IslandJoan's post, I don't think babies are born evil. They may be born with certain personality traits but the environment dictates how those traits develop in the individual.

There are several root problems in the USVI. Education and the family unit are two very important things to consider. When the quality of education is subpar and the family unit is not there to stress the importance of education and ensure it is the top priority, there is a void that can be filled by something else. In many cases this is filled by what kids see on TV and in their local environment. Kids want to be "cool" and feel accepted by their peers.

Watch any gangster rap videos on BET and what are they promoting? Drugs, guns, sex and violence. Imagine the scenario: A kid goes to school and is not inspired by the educators. They come home at the end of the day and see the gangsters hanging on the corner with big chains, nice cars and guns on their waist. They turn on the TV and see gangsters on the music channel promoting the same lifestyle. Mom is at work, Dad is long gone. Grandma is there but not taking a vested interest in seeing the youth prosper. So they start to see the gangster lifestyle as something to be emulated and something that seems more plausible for their future rather than becoming a successful contributor to society. As they start to go down this path, if there is no intervention, they end up getting so deep and caught up in it, there is no turning back even if they wanted to. Go to jail, get a criminal record- good luck getting a job after that and the cycle is perpetuated.

This problem is occurring across the Caribbean and the US. The difference in the USVI is very easy access to unlicensed firearms and drugs. This is exacerbated with the close proximity of Puerto Rico where gang life is also a big problem. The gangster lifestyle comes from America. You don't see that coming from Australia, Europe or Asia. We are an American territory so the USVI and PR is much more influenced by this.

The welfare state, lack of opportunity, and perpetuation of violent behavior are the main causes for the other types of crime we see such as theft and domestic violence. The family unit has declined and violence has been perpetuated through the generations. Its perfectly acceptable to beat your kid here.

There are many more problems but I blame a lot on the gangster lifestyle being promoted by popular culture and America's fascination with guns.

Those are the problems so what are the solutions? I think it all starts with education and family. Education should be the number one priority not only in the USVI but also in the US. I'm not talking about education to pass a test to move on to the next grade level. I'm talking about assessing each and every kid and finding out what inspires them. Creating educational programs that show real world applications to the things they are learning. We need to stop assuming all kids learn the same and should learn the same things. Kids need to be inspired! We need to pay educators top dollar and find people who can provide inspiration so that when a kid wakes up in the morning, they can't wait to continue their learning. IMO the entire education system needs to be overhauled. It's happening in the US and will continue to do so, but we are very behind here.

The importance of education and the character of a person starts at home though. Kids need a positive home life with a parent or parents who really care about what's going on in their life. Someone to show them the right way and how to be a good person. To steer them on the right path when they are heading down the wrong one. Kids need their parents to be friends, mentors, disciplinarians, and educators all at the same time. Parents need to show their kids the real key to happiness in life is finding healthy things to be passionate about. I believe a lot of the ills in this world stem from people not having healthy passions to keep them inspired. So they turn to things that give them instant gratification.

I could go on and on and probably got a little carried away here. Oh well, that's just my humble opinion on the USVI which is really a microcosm of the world.
Re: Violence in the USVI: an anthropological explanation
Registered: 11 years ago
Posts: 1,634
hi Matt

That's a thoughtful post.

Just to clarify what I said - some people are just evil.

That does not mean that all babies are "born evil" or even that some babies are "born evil"

I just mean that some people are evil, so at some point in their life they became evil.

How or why has still not been decided definitively by many studies and theories that I have read, because I am very interested in this subject.
Re: Violence in the USVI: an anthropological explanation
Registered: 4 years ago
Posts: 596
Quote

JahRustyFerrari

Which "Native American" taught this guy his skills??

[

en.wikipedia.org

]

You picked a case which supports Pirsig's theory about the absorption of the violent culture in the continental United States. According to your article, Edward Theodore "Ed" Gein collected trophies and keepsakes from the dead bodies' bones and skin. Is it not reminiscent of the Choctaw and Mohawk Indians scalping their enemies and collecting their bones and skulls as trophies?



Edited 3 time(s). Last edit at 09/10/2015 01:43PM by wanderer.
Re: Violence in the USVI: an anthropological explanation
Matt T
September 10, 2015 01:31PM
Registered: 12 years ago
Posts: 261
No problem IslandJoan. I understand where your coming from, I have also given it a lot of thought.

I could be wrong but my thinking is that we are part of the animal kingdom right? I am not talking about evolution but the fact that we have been coexisting with the animal kingdom since the advent of the human species. Some people believe we are superior and maybe we are, but in order to survive, we need plants and animals to be here on this earth.

When you look at the animal kingdom, in many different species you see personality traits. Scientists who study great white sharks have observed that some are much more aggressive than others. From my experience with domesticated animals, some are very friendly and love affection while others are standoffish or aggressive.

We also see animals exhibit behaviors that are mirrored in human society. Ever seen a cat kill something just for fun? Orcas have been observed spending hours trying to separate a baby whale calf from its mother only to kill it and leave the entire thing intact without eating it. I think the higher up the "chain" you go on the pyramid the more you see these types of behaviors. So if we really are at the top and have the ability to reason, it makes sense that the same behaviors would be exhibited and perhaps exacerbated.

When you see that animals are capable of developing their own personalities with good and bad traits, it makes sense that humans would too. The question is: nature vs nurture?

Ultimately, I am a yin and yang person. We would not know light without darkness. We would not know good without evil.



Edited 1 time(s). Last edit at 09/10/2015 01:34PM by Matt T.
Re: Violence in the USVI: an anthropological explanation
Registered: 4 years ago
Posts: 596
Re: Violence in the USVI: an anthropological explanation
Registered: 4 years ago
Posts: 458
Re: Violence in the USVI: an anthropological explanation
Registered: 4 years ago
Posts: 1,885
Quote

JohnnyU

Quote

wanderer

Quote
islandjoan
No it's not, wanderer.

Periodic elements can be measured and quantified scientifically, whereas the human mind cannot.

Hmm. Psychology, psychiatry, sociology, anthropology, economics, philosophy. Are these "lesser" sciences than chemistry?

Unequivocally yes
Join the discussion. Click the button below to Login or Register now!
Moving to the U.S. Virgin Islands?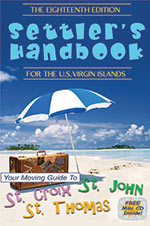 Only $17.95
The Settlers Handbook for the U.S. Virgin Islands is your guide to moving to St. Croix, St. Thomas, St. John and Water Island.
The current 18th Edition, released in January 2016, will help you explore your dream of island living. A solid reference book, it was first published in 1975. That's 40 years of helping people move to the islands. A must read. Order today.
Order Today
Advertise
Join VIMovingCenter.com Today!
Tell prospective and current residents about your business.
Proud Supporter
VI Olympic Team
For over 45 years, the Virgin Islands has celebrated the Olympic tradition by sending our athletes to compete.