Singlefin, that is a very reasonable explanation, thanks for your response.
by
CptWally98
-
General/Relocating
No, not fire sale prices, but at least the same, not higher.
by
CptWally98
-
General/Relocating
Hello St Croix.My husband and I have been trying to purchase a home in St. Croix since March 2017, ( A previous house deal fell through) IMHO, it appears that the asking price for houses has increased since the hurricane. Does anyone know if this is true and if so way?
by
CptWally98
-
General/Relocating
Moving to the U.S. Virgin Islands?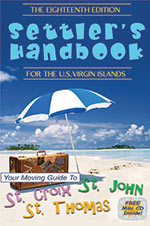 Only $17.95
The Settlers Handbook for the U.S. Virgin Islands is your guide to moving to St. Croix, St. Thomas, St. John and Water Island.
The current 18th Edition, released in January 2016, will help you explore your dream of island living. A solid reference book, it was first published in 1975. That's 40 years of helping people move to the islands. A must read. Order today.
Order Today
Advertise
Join VIMovingCenter.com Today!
Tell prospective and current residents about your business.
Proud Supporter
VI Olympic Team
For over 45 years, the Virgin Islands has celebrated the Olympic tradition by sending our athletes to compete.