I am looking to find full time electrician on the island of st.croix.I have been working in the states over 25 years veryifyable employment.I have all tools for the trade.I have worked commercial ,industrial,residential,multi family and hospitals last 10 years.If any one can recommend a company or a contact it would be greatly appreciated.
by
Seasurf3
-
General/Relocating
Moving to the U.S. Virgin Islands?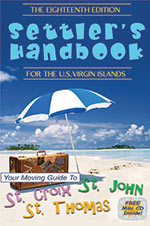 Only $17.95
The Settlers Handbook for the U.S. Virgin Islands is your guide to moving to St. Croix, St. Thomas, St. John and Water Island.
The current 18th Edition, released in January 2016, will help you explore your dream of island living. A solid reference book, it was first published in 1975. That's 40 years of helping people move to the islands. A must read. Order today.
Order Today
Advertise
Join VIMovingCenter.com Today!
Tell prospective and current residents about your business.
Proud Supporter
VI Olympic Team
For over 45 years, the Virgin Islands has celebrated the Olympic tradition by sending our athletes to compete.