I've looked on the chamber of commerce website regarding licensure for both nurse and real estate. Everything I've read for real estate is pass the exam, back ground check, and must be a resident for at least 30 days. Every real estate agent must have a sponsoring broker so I'm hoping just to transfer from my local broker here to STX. It's a nationwide firm. Business licensure seems standard too.
by
jamiewalker2000
-
General/Relocating
Thanks. I have been going through this site and researching. It's been helpful. I'm staying for 5 days to do some scouting around town next week. I'm going to try and take 2 more trips there prior to the move as well.
by
jamiewalker2000
-
General/Relocating
I'm relocating to STT towards the end of 2018. Any advice or tips would be great! I've been to STT several times for vacation and I'm heading there next week for scouting. I have several trades I'm going to research while I'm there. I'm a nurse and realtor by trade. I own a small business in advertising and hoping to start a small business (or 2) there. Any suggestions on housing, business, movin
by
jamiewalker2000
-
General/Relocating
Moving to the U.S. Virgin Islands?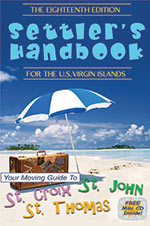 Only $17.95
The Settlers Handbook for the U.S. Virgin Islands is your guide to moving to St. Croix, St. Thomas, St. John and Water Island.
The current 18th Edition, released in January 2016, will help you explore your dream of island living. A solid reference book, it was first published in 1975. That's 40 years of helping people move to the islands. A must read. Order today.
Order Today
Advertise
Join VIMovingCenter.com Today!
Tell prospective and current residents about your business.
Proud Supporter
VI Olympic Team
For over 45 years, the Virgin Islands has celebrated the Olympic tradition by sending our athletes to compete.