I just called them and unfortunately they would not consider coming to St Thomas for this as they are just so busy themselves on St Croix. I understand and can only hope someone takes an interest but can't find anyone so far. If anyone reads this and knows of a reliable firm or individual on St Thomas please post, thanks.
by
Wahoo King
-
General/Relocating
Thanks for the replies, this pertains to a condo on St Thomas. Basically trying to get anyone involved is nearly impossible at this point...dreading the thought of not having shutters up for the upcoming storm season.
by
Wahoo King
-
General/Relocating
I am trying to find a few companies that provide the installation of hurricane shutters. I am assuming they would need to come and measure an opening around our outdoor balcony and am interested in the roller type shutter. Thanks for any information, there are a couple of companies that are listed as vendors at our condo association but apparently they are very busy.
by
Wahoo King
-
General/Relocating
Moving to the U.S. Virgin Islands?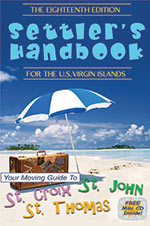 Only $17.95
The Settlers Handbook for the U.S. Virgin Islands is your guide to moving to St. Croix, St. Thomas, St. John and Water Island.
The current 18th Edition, released in January 2016, will help you explore your dream of island living. A solid reference book, it was first published in 1975. That's 40 years of helping people move to the islands. A must read. Order today.
Order Today
Advertise
Join VIMovingCenter.com Today!
Tell prospective and current residents about your business.
Proud Supporter
VI Olympic Team
For over 45 years, the Virgin Islands has celebrated the Olympic tradition by sending our athletes to compete.