Hi, I'm moving from Kentucky In 2 months, and I'm looking for a job in a salon. I was curious if anyone knows someone possibly hiring. Also, if anyone can comment on how hairstylists seem to do financially in the VI, I would really appreciate. Any related advice is welcomed! Thank you!
by
tyfromky
-
General/Relocating
Hi, im 26 and I just graduated hair school and am going to be moving at the end of March. I am looking for a place to live. It is just me, and I don't reauire much. Just looking for basics. I was hoping to get some advice on where to look for something affordable. Also if anyone has any advice on areas to try and stay away from that would be helpful too. Any extra advice is more than welcomed as
by
tyfromky
-
General/Relocating
Moving to the U.S. Virgin Islands?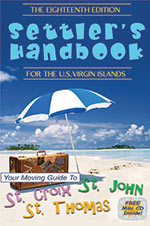 Only $17.95
The Settlers Handbook for the U.S. Virgin Islands is your guide to moving to St. Croix, St. Thomas, St. John and Water Island.
The current 18th Edition, released in January 2016, will help you explore your dream of island living. A solid reference book, it was first published in 1975. That's 40 years of helping people move to the islands. A must read. Order today.
Order Today
Advertise
Join VIMovingCenter.com Today!
Tell prospective and current residents about your business.
Proud Supporter
VI Olympic Team
For over 45 years, the Virgin Islands has celebrated the Olympic tradition by sending our athletes to compete.