Great for you Alana. Glad Beris did good by you. I'm sure you paid extra for that. There's more people they've done wrong by however.... What happened to my item was malicious. A friend asked if they ran my @#$%& over with a pallet jack. There's no other way for this damage to happen. Beris is a lying unprofessional businessman. He's not a good man. If he was he would do right by me.
by
Truth
-
General/Relocating
Thank you STXBob and all of you for joining the conversation. Hopefully, if enough bad reports are posted and people see that Mr. Beris Lynch is a Jerk, a Fake, and Not of the Island way of being "Good People" Maybe all of this will Lose him some potential customers! Will Lose him A lot of potential money. He treated some us badly and damaged our property. And, then he doesn't
by
Truth
-
General/Relocating
Due to the hurricanes I've had to leave STT which has been my home for many awesome years. Since the shipping yards were a mess, Tropical and Crowley could not ship our cargo and vehicle to Florida. We were advised to use Viking Corporation run by Beris Lynch. They are so overpriced— gouged us! It was the worst experience. I'm so angry I made a website telling my story and WARNING everyone No
by
Truth
-
General/Relocating
Moving to the U.S. Virgin Islands?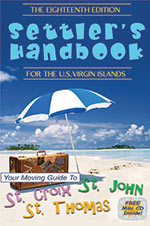 Only $17.95
The Settlers Handbook for the U.S. Virgin Islands is your guide to moving to St. Croix, St. Thomas, St. John and Water Island.
The current 18th Edition, released in January 2016, will help you explore your dream of island living. A solid reference book, it was first published in 1975. That's 40 years of helping people move to the islands. A must read. Order today.
Order Today
Advertise
Join VIMovingCenter.com Today!
Tell prospective and current residents about your business.
Proud Supporter
VI Olympic Team
For over 45 years, the Virgin Islands has celebrated the Olympic tradition by sending our athletes to compete.