Hello, Is this still available? we are moving down July 1, 2018. Myself and husband and 9 year old daughter. Jess
by
jess2031
-
USVI Classifieds
Hello All, I posted earlier about a wifi question. Thank you for the responses. Our daughter has been in Catholic school stateside her whole schooling experience. We are considering GHCD school however was wondering if any Catholic elementary schools are open currently. Or any recommendations you may have. Also I am a teacher so would love to find a job anywhere. Thanks.
by
jess2031
-
General/Relocating
Hello All, My husband, myself and 9 year old daughter are moving to STX July 1! My husbands boss said he can work remotely as long as he can stay in touch through the internet to make deliverables. I am from STX and highly concerned about the loss of internet or wifi connections for him to do his work. Any suggestions on what he should do? This is important as his job makes or breaks our abil
by
jess2031
-
General/Relocating
Moving to the U.S. Virgin Islands?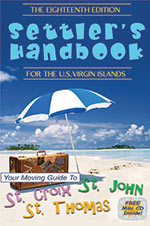 Only $17.95
The Settlers Handbook for the U.S. Virgin Islands is your guide to moving to St. Croix, St. Thomas, St. John and Water Island.
The current 18th Edition, released in January 2016, will help you explore your dream of island living. A solid reference book, it was first published in 1975. That's 40 years of helping people move to the islands. A must read. Order today.
Order Today
Advertise
Join VIMovingCenter.com Today!
Tell prospective and current residents about your business.
Proud Supporter
VI Olympic Team
For over 45 years, the Virgin Islands has celebrated the Olympic tradition by sending our athletes to compete.