I would totally adopt another dog but my girl hasn't allowed it yet. I fostered 2 awesome dogs for a while and she hated them. They were both male so I have been thinking of trying with another female.
by
KatG
-
General/Relocating
Thank you for the info. Luckily meeting men isn't super high on my list of priorities right now! I just want to start a new, exciting job and go snorkeling. I have been looking at rentals and you are so right! It is difficult finding places that allow dogs. I hope I find something.
by
KatG
-
General/Relocating
Hi, I am looking into a position at the Captain Morgan Distillery on St. Croxi. I was wondering if anyone works there and what you think of it. Also wondering how single women feel living alone on the island. I would just be moving with my dog. Thank you for any input!
by
KatG
-
General/Relocating
Moving to the U.S. Virgin Islands?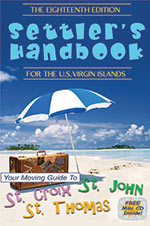 Only $17.95
The Settlers Handbook for the U.S. Virgin Islands is your guide to moving to St. Croix, St. Thomas, St. John and Water Island.
The current 18th Edition, released in January 2016, will help you explore your dream of island living. A solid reference book, it was first published in 1975. That's 40 years of helping people move to the islands. A must read. Order today.
Order Today
Advertise
Join VIMovingCenter.com Today!
Tell prospective and current residents about your business.
Proud Supporter
VI Olympic Team
For over 45 years, the Virgin Islands has celebrated the Olympic tradition by sending our athletes to compete.