Hello! This is my second posting on here in regards to a housemate, so you may have seen a similiar post up. I am a female looking to relocate to St Thomas in the next 2-3 weeks. I have found a realtor with amazing properties that are 2-3 bedrooms in amazing locations on St Thomas. I am looking for 1-3 other people that are also relocating to the island looking for a similar housemate situati
by
starnesham
-
General/Relocating
Hello, I will be relocating from the mainland to the USVI (St Thomas) on or around March 1st and I am looking for short or long term housing. Housemates or roommate living situations are welcomed! Thank you!
by
starnesham
-
USVI Classifieds
Hellllo! I will be relocating to STT on or around March 1st and I need a roommate. It would also help if someone could let me know where some of the more safer parts of the islands are. If anyone has any suggestions please reply. Thanks in advance!
by
starnesham
-
General/Relocating
Moving to the U.S. Virgin Islands?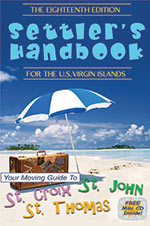 Only $17.95
The Settlers Handbook for the U.S. Virgin Islands is your guide to moving to St. Croix, St. Thomas, St. John and Water Island.
The current 18th Edition, released in January 2016, will help you explore your dream of island living. A solid reference book, it was first published in 1975. That's 40 years of helping people move to the islands. A must read. Order today.
Order Today
Advertise
Join VIMovingCenter.com Today!
Tell prospective and current residents about your business.
Proud Supporter
VI Olympic Team
For over 45 years, the Virgin Islands has celebrated the Olympic tradition by sending our athletes to compete.