Hello everyone, I am inquiring about the kind of market and grocery stores like open air markets and grocery stores available on St.Thomas. Are there any close by and which side of the island has the best up products as well as a moderate price and affordability. Thank you.
by
IslandLifeGirl
-
General/Relocating
Wanting property in St Thomas October 1 2017. Small Family Relocating to Islands. Any leads can be helpful. IslandLifeGirl
by
IslandLifeGirl
-
USVI Classifieds
Moving to the U.S. Virgin Islands?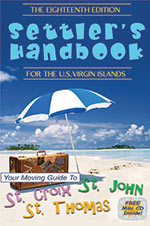 Only $17.95
The Settlers Handbook for the U.S. Virgin Islands is your guide to moving to St. Croix, St. Thomas, St. John and Water Island.
The current 18th Edition, released in January 2016, will help you explore your dream of island living. A solid reference book, it was first published in 1975. That's 40 years of helping people move to the islands. A must read. Order today.
Order Today
Advertise
Join VIMovingCenter.com Today!
Tell prospective and current residents about your business.
Proud Supporter
VI Olympic Team
For over 45 years, the Virgin Islands has celebrated the Olympic tradition by sending our athletes to compete.