Hello, My husband and I are moving to STX in March. We are currently in STX, Christiansted East End and looking for a vehicle. What dealership(s) or car lots should we visit. Looked at the beginning of January on the last visit and only inquired on new vehicles. Months are moving by rapidly. Your suggestions are greatly appreciated.
by
dezntracey
-
General/Relocating
STX-Turners Hole East End, Christiansted USED APPLIANCES available: **Dishwasher (Kenmore)- $125 - In great condition, hardly used **Stove (Admiral) - $100 - Works great (all 4 burners + oven), minimal rust **Hot Water Heater (American Proline - 42 Gallons) - $100 **Window A/C (GE) - $100 - 115 volt / 800 watts Please see pics on VIMoving FB page
by
dezntracey
-
USVI Classifieds
Moving to the U.S. Virgin Islands?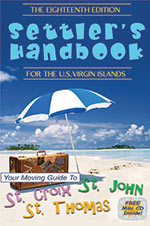 Only $17.95
The Settlers Handbook for the U.S. Virgin Islands is your guide to moving to St. Croix, St. Thomas, St. John and Water Island.
The current 18th Edition, released in January 2016, will help you explore your dream of island living. A solid reference book, it was first published in 1975. That's 40 years of helping people move to the islands. A must read. Order today.
Order Today
Advertise
Join VIMovingCenter.com Today!
Tell prospective and current residents about your business.
Proud Supporter
VI Olympic Team
For over 45 years, the Virgin Islands has celebrated the Olympic tradition by sending our athletes to compete.