Does anyone know where to obtain a true list of cruise ships docking in Fredriksted? I've seen a cpl floating around but they don't seem to be accurate.
by
Cindynok
-
Under a Coconut Tree
We are contractors state side, and feel helpless seeing the destruction on STT and STJ. Trying to find a means to get some housing via container home or even camping trailers on island. But if the container homes that are there sustained Irma that would be a more viable resolve rather than returning a trailer. Was hoping to get some feedback
by
Cindynok
-
General/Relocating
We are moving to STX soon and have dreams of building container home for guests, curious to know how the container homes faired since Irma?
by
Cindynok
-
General/Relocating
Moving to the U.S. Virgin Islands?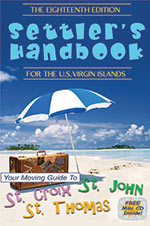 Only $17.95
The Settlers Handbook for the U.S. Virgin Islands is your guide to moving to St. Croix, St. Thomas, St. John and Water Island.
The current 18th Edition, released in January 2016, will help you explore your dream of island living. A solid reference book, it was first published in 1975. That's 40 years of helping people move to the islands. A must read. Order today.
Order Today
Advertise
Join VIMovingCenter.com Today!
Tell prospective and current residents about your business.
Proud Supporter
VI Olympic Team
For over 45 years, the Virgin Islands has celebrated the Olympic tradition by sending our athletes to compete.