researched and found that currently latest pick up is 3:30
by
Pattycakes85
-
General/Relocating
Does Star Apple any sort of after school program? I am a single mom and I get off work at 5, which is making my son's current school setting a bit of a hassle.
by
Pattycakes85
-
General/Relocating
(STX Good Evening All, I am a newly single mom with a 3 year old son who is on the Autism Spectrum. I am looking for someone to pick him up from school when school starts back up (he goes to a small private school near our house and must be picked up by 4 PM) and bring him to our home and watch him for a couple hours five days a week. I would get home around 5:30 most days and am thinking th
by
Pattycakes85
-
Community
Moving to the U.S. Virgin Islands?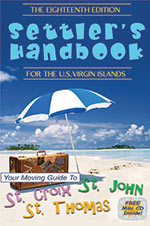 Only $17.95
The Settlers Handbook for the U.S. Virgin Islands is your guide to moving to St. Croix, St. Thomas, St. John and Water Island.
The current 18th Edition, released in January 2016, will help you explore your dream of island living. A solid reference book, it was first published in 1975. That's 40 years of helping people move to the islands. A must read. Order today.
Order Today
Advertise
Join VIMovingCenter.com Today!
Tell prospective and current residents about your business.
Proud Supporter
VI Olympic Team
For over 45 years, the Virgin Islands has celebrated the Olympic tradition by sending our athletes to compete.