Just curious, but what type of career activity does "logistics" represent? Sorry, I honestly don't know... who would you work for and what do you do?
by
Darkmuse
-
Community
Hello all, I recently purchased a home on the island and will be spending the next couple years bouncing back and forth to the mainland. I was considering renting a storage unit within walking distance of the airport to leave my car at while I am stateside, this seemed both secure and convenient. However, I can't find a listing for storage anywhere nearby. Is this possible, or do most folks
by
Darkmuse
-
General/Relocating
Moving to the U.S. Virgin Islands?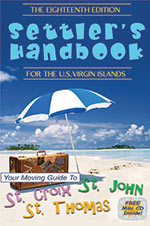 Only $17.95
The Settlers Handbook for the U.S. Virgin Islands is your guide to moving to St. Croix, St. Thomas, St. John and Water Island.
The current 18th Edition, released in January 2016, will help you explore your dream of island living. A solid reference book, it was first published in 1975. That's 40 years of helping people move to the islands. A must read. Order today.
Order Today
Advertise
Join VIMovingCenter.com Today!
Tell prospective and current residents about your business.
Proud Supporter
VI Olympic Team
For over 45 years, the Virgin Islands has celebrated the Olympic tradition by sending our athletes to compete.