As i read through some of these threads I keep noticing folks saying something about paying off the loan before shipping it to STT. If you have a lien on a vehicle, say in TX, by a local lender - do you need to pay off that loan prior to shipping the vehicle to STT? Just curious as we have two paid off and two on loan and we were planning to keep one that is paid for and one that has a lien.
by
readyforachange_tx
-
General/Relocating
I am interviewing for a job on STT and my U15 daughter is a high level soccer player here in North Texas. My question is simple: are there good soccer programs on STT and where are her best options for continued soccer growth? Is it easy for kids to become a part of a soccer team?
by
readyforachange_tx
-
Community
Moving to the U.S. Virgin Islands?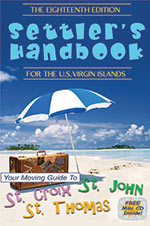 Only $17.95
The Settlers Handbook for the U.S. Virgin Islands is your guide to moving to St. Croix, St. Thomas, St. John and Water Island.
The current 18th Edition, released in January 2016, will help you explore your dream of island living. A solid reference book, it was first published in 1975. That's 40 years of helping people move to the islands. A must read. Order today.
Order Today
Advertise
Join VIMovingCenter.com Today!
Tell prospective and current residents about your business.
Proud Supporter
VI Olympic Team
For over 45 years, the Virgin Islands has celebrated the Olympic tradition by sending our athletes to compete.