Last Saturday-March 5th, 8 days ago my baby Tuco went missing from his home in W. Caret Bay. He is older 10-1/2 yrs old on a special diet for pancreatitis and has a heart murmur. His most distinguishing feature is that he has no tail, and has markings of a peace sign on the top of his head. I am frantic to get him back he needs his medication, and special diet. Please if you see him call Rita day
by
RDF818
-
Community
PLEASE HELP!!!! LOST DOG ALERT: Last Saturday-March 5th, 8 days ago my baby Tuco went missing from his home in W. Caret Bay. He is older 10-1/2 yrs old on a special diet for pancreatitis and has a heart murmur. His most distinguishing feature is that he has no tail, and has markings of a peace sign on the top of his head. I am frantic to get him back he needs his medication, and special diet.
by
RDF818
-
USVI Classifieds
Moving to the U.S. Virgin Islands?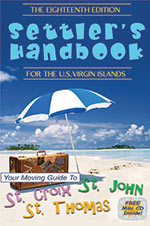 Only $17.95
The Settlers Handbook for the U.S. Virgin Islands is your guide to moving to St. Croix, St. Thomas, St. John and Water Island.
The current 18th Edition, released in January 2016, will help you explore your dream of island living. A solid reference book, it was first published in 1975. That's 40 years of helping people move to the islands. A must read. Order today.
Order Today
Advertise
Join VIMovingCenter.com Today!
Tell prospective and current residents about your business.
Proud Supporter
VI Olympic Team
For over 45 years, the Virgin Islands has celebrated the Olympic tradition by sending our athletes to compete.