I just do not understand why some people can ship personal household items in their vehicles just this last Fall, and yet it keeps being posted here that you cannot???? Why are some people allowed to do that and others not???
by
rosesisland
-
General/Relocating
I read somewhere on here that you weren't allowed to ship household items in your vehicles. Yet, I met a couple while down there in Dec-Jan who had just moved to STX and they shipped a lot of their stuff in their vehicles. The USPS has a "book rate" for mailing just books in a single parcel; you may want to check with them.
by
rosesisland
-
General/Relocating
I, too, will be moving back to STX in the Fall with an eleven year old Standard Poodle and in checking out things, it does seem the regs have changed than when I moved there in the 90's with a Labrador. I have nightmares about standing at the airport, flying out of Miami and not being able to get him on the plane. Please keep this thread informed as to your solution. We will drive to Miami fro
by
rosesisland
-
General/Relocating
Moving to the U.S. Virgin Islands?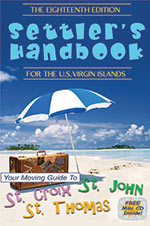 Only $17.95
The Settlers Handbook for the U.S. Virgin Islands is your guide to moving to St. Croix, St. Thomas, St. John and Water Island.
The current 18th Edition, released in January 2016, will help you explore your dream of island living. A solid reference book, it was first published in 1975. That's 40 years of helping people move to the islands. A must read. Order today.
Order Today
Advertise
Join VIMovingCenter.com Today!
Tell prospective and current residents about your business.
Proud Supporter
VI Olympic Team
For over 45 years, the Virgin Islands has celebrated the Olympic tradition by sending our athletes to compete.