Meet the Islands
The U.S. Virgin Islands includes four main islands: St. Croix, St. Thomas, St. John and Water Island. Each has its own personality; and there are differences between islands. This is a very brief introduction to the four islands.
The largest island in the U.S. Virgin Islands is St. Croix at 84 square miles. It is home to the Cruzan Rum Distillery that produces Cruzan Rum; and also Diageo the producers of Captain Morgan Rum. St. Croix has two main towns, Christiansted and Frederiksted. Its nick name is Twin City. The island offers an assortment of amenities for visitors from golf courses, to the USVI's only casino. St. Croix is separated from its sister islands by a distance of about 40 miles from St. Thomas. It is known for having a town and country feel, more so than any of the other islands in the U.S. Virgin Islands. Residents enjoy community events such as music and art festivals, theatre productions; and watersports such as fishing, scuba diving, sailing, boating, kiteboarding and more. St. Croix has associations that residents can participate in and volunteer with such as rotary clubs, Chamber of Commerce, historical conservation groups, environmental groups and others. St. Croix has large grocery stores and shops for other goods. There is a hospital and private medical practices. Educational facilities range from preschool to university. There is an airport on St. Croix.
St. Thomas is the second largest of the U.S. Virgin Islands at just over 31 square miles. The capital of the USVI is Charlotte Amalie, and it is located on St. Thomas. Charlotte Amalie is St. Thomas' main commercial area; and is one of the most frequented cruise ship ports in the Caribbean. The economy is based on tourism. There are numerous resorts, hotels, guest houses and vacation villas; as well as many recreational businesses that focus on visitors such as taxi tours, fishing trips and boat excursions. St. Thomas is in close proximity to St. John and Water Island. St. Thomas is known for being the most hopping of the USVI islands, with more restaurants, bars and activities. Its nickname is Rock City. Beautiful beaches, a variety of watersports such as boating, fishing, kiteboarding, surfing, scuba diving among others are popular with residents. There are a variety of associations to participate in and with which to volunteer including rotary clubs; environment, historical and sports groups; genealogical associations and others. St. Thomas has large grocery stores and bulk stores. St. Thomas has an airport that offers direct flights to the U.S. mainland. A hospital and a variety of private medical practices are available. There are education facilities from pre-school to university level.
St. John, the third largest at 20 square miles, is home to the Virgin Islands National Park. The Park encompasses about 60% of the island and its beaches, hiking trails and historical sites are the main draw for visitors. Tourism is the islands' main industry. There are several hotels, campgrounds and bed and breakfasts on the island, in addition to many vacation villas and rentals. St. John is located very close to St. Thomas, a short 15 minute ferry ride. Some residents live on one island and work on the other, commuting daily. St. John is known for its laid back atmosphere. Its nick name is Love City. Traffic is caused by herds of goats and wild donkeys. Cruz Bay is the main town on the island. Grocery stores and other shops are available. There is a medical clinic and some private medical offices. Residents of St. John make regularly trips to St. Thomas for its larger assortment of services and stores. On St. John there are education facilities from preschool to high school. St. John does not have an airport; ferry service from/to St. Thomas facilitates commuting. Real estate is pricier on St. John since a lot of the island is park land.
The smallest of the Virgin Islands, Water Island is only 491.5 acres! It's pretty close to living on a private island; the population is just 182 people (2010 census). Visitors come to Water Island for the off the beaten path quiet charm. There are just a couple businesses on the island in the form of beach bars, boat charters and vacation rentals. Residents depend on St. Thomas, which is just a short 7 minute ferry ride away for almost everything. For the most part residents work on St. Thomas, and commute either on a small ferry or on their own personal dingy. Residents bring their groceries over from St. Thomas, as is the case with all other needed goods including gas for cars. Main roads are paved and residents drive cars and golf carts. Apartments for rent and real estate availabilities are limited. There is no airport; a ferry connects the island with St. Thomas. There are no schools on Water Island. There is a home-school group. Some children go to school on St. Thomas. There are no medical facilities.
Moving to the U.S. Virgin Islands?
The Settlers Handbook for the U.S. Virgin Islands is your guide to moving to St. Croix, St. Thomas, St. John and Water Island.
The current 18th Edition, released in January 2016, will help you explore your dream of island living. A solid reference book, it was first published in 1975. That's 40 years of helping people move to the islands. A must read. Order today.
Order Today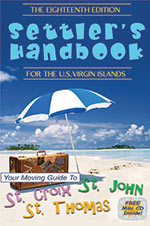 Only $17.95
$11.95
The Wild Life in an Island House
Are you planning to move to the Virgin Islands? Want to learn about the critters that will be sharing the island and maybe your home or apartment with you?
Buy Now
Advertise
Join VIMovingCenter.com Today!
Tell prospective and current residents about your business.
Proud Supporter
VI Olympic Team
For over 45 years, the Virgin Islands has celebrated the Olympic tradition by sending our athletes to compete.