Advertising
VIMovingCenter.com is the only Virgin Islands website dedicated to relocating to and living in the islands. Readers are looking for information on topics related to initially settling in like movers, storage, housing, real estate, employment... to the things they need as residents like health care, accountants, electricians and social groups. VIMovingCenter.com has high search engine placement for Virgin Islands search terms related to moving to the USVI and living here. Created in 2002 the website is well established and is well read.
VIMovingCenter.com is a great way to attract customers from amongst these new residents, and from existing residents. Advertising options include topic specific listings and run of site graphic ads. Reach customers, create greater brand awareness, increase traffic to your website and business.
Click on the Request Advertising button below, email or give us a call; we look forward to working with you.
Contact VIMovingCenter.com
Email: info@vinow.com
Tel: (340) 227-8121
Mail: P.O. Box 9678
St. Thomas, USVI 00801
Moving to the U.S. Virgin Islands?
The Settlers Handbook for the U.S. Virgin Islands is your guide to moving to St. Croix, St. Thomas, St. John and Water Island.
The current 18th Edition, released in January 2016, will help you explore your dream of island living. A solid reference book, it was first published in 1975. That's 40 years of helping people move to the islands. A must read. Order today.
Order Today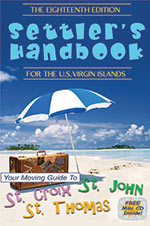 Only $17.95
$11.95
National Geographic Trails Illustrated St. John Map
This is a National Geographic map for the Virgin Islands National Park on St. John, U.S. Virgin Islands. On side 1 is a full map of St. John. Other islands are also included such as Great Thatch, Lovango Cay, Durloe Cays, Leduck Island and the west end of Tortola.
Buy Now
Advertise
Join VIMovingCenter.com Today!
Tell prospective and current residents about your business.
Proud Supporter
VI Olympic Team
For over 45 years, the Virgin Islands has celebrated the Olympic tradition by sending our athletes to compete.