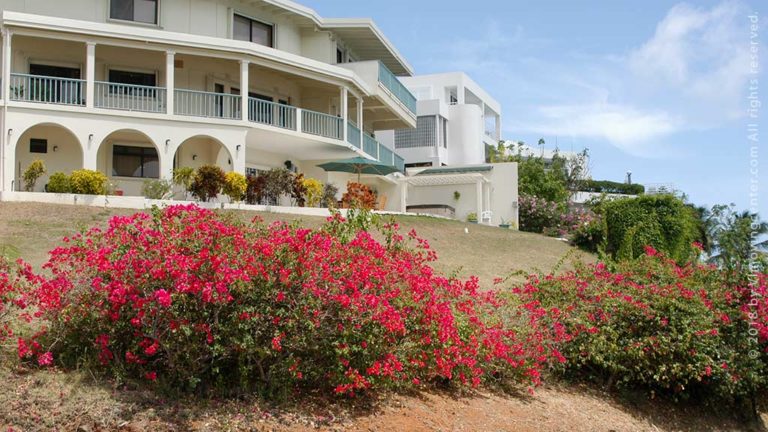 Finding housing in the Virgin Islands differs by island. On St. Thomas and St. Croix the apartment market is active with properties varying in size, location, cost, furnished or not and other attributes. St. John also has an active market however the options are not as numerous or varied and being choosy may not be an option with the limited number of availability. Water Island has a few apartments but with low turn over availability is limited.
Types of Apartments and Costs
Apartments in the Virgin Islands often are part of a larger house; your landlord may very likely live on one level and your "apartment" on the next. Large apartment developments like those found on the US mainland where one complex might have 200 identical apartments contained within low-rise buildings with assigned parking spots, laundry facilities, a swimming pool, maintenance department and management office do not exist in the Virgin Islands. There are a few multi-level apartment buildings on St. Thomas and St. Croix, however the predominant type remains the "apartment" as part of a larger home. Another popular housing option is a condominium.
Houses
For individuals, couples or friends the popular choices for apartments are studio apartments, 1 or 2 bedroom apartments as part of a home. Small cottages apart from a home are not common. Apartments within a larger home with 3 rooms are not common. Houses with multiple rooms and bathrooms are available for larger groups or families, they are the most costly.
Condominiums
Several condominium developments on St. Thomas and St. Croix offer the atmosphere of the typical mainland apartment complex, often with the island location benefit of being on or close to the beach. Some condominiums are part of or located near to hotels/resorts. Other condominiums have golf courses, tennis courts, swimming pools, gated entrances and other amenities. Larger condos with 2 or 3 rooms are available.
Average monthly cost of rentals
Rental prices in the Virgin Islands are higher then rental prices in most states in the US mainland.
When budgeting start up monies needed for your move expect to pay a security deposit, first and last month's rent and also any connection deposits for phone and electricity, if those utilities are not included in your rent.
|   | St. Thomas & Water Island | St. John | St. Croix |
| --- | --- | --- | --- |
| Efficiency/Studio | $775-$1000 | $850-$1000 | $700-$900 |
| Cottage | $1200-$2000 | $1200-$2000 | $1200-$1800 |
| 1 Bedroom Apt. | $850-$1800 | $950-$1800 | $750-$1500 |
| 2 Bedroom Apt. | $1300-$2500 | $1200-$3000 | $1200-$2500 |
| 2-3 Bedroom Condo | $1500-$3500 | $1400-$4000 | $1200-$3500 |
| 2-4 Bedroom House | $1800-$4500 | $2250-$5000 | $1800-$4500 |
Rental rates from The Settlers Handbook to the US Virgin Islands, 19th edition, 2020. Utilities not included in rental rate estimates.


Finding an Apartment
Finding an apartment or condo often requires either a pre-move scouting visit or a post-move stay in a short term rental while you secure an apartment.9
Apartments are listed in the local newspapers. The St. Thomas, St. John and Water Island newspaper choices are the Daily News and the weekly Island Trader and for St. Croix there is the St. Croix Avis. These newspapers list the apartments with a short description, location and contact information. You should call and ask questions and set up an appointment to visit the property. On the visit be sure to check for cleanliness, view, location, parking, amenities, utilities, water pressure and any other important attributes. After visiting several properties decide on the apartment that suits your wants and needs. Many landlords require 6 month to 1 year leases, some will rent month to month.
If you are moving with a family you may contact a real estate agent that might find an apartment/home for you and do the looking and inspecting/negotiating on your behalf or perhaps one member of your family might make a pre-move visit and secure an apartment before the whole family moves.
It is somewhat difficult to find apartments on St. John during high tourist season because of the influx of seasonal workers. High season runs from mid-November until mid-May.


People with pets will run into particular difficulty as most landlords and condo associations do not allow pets; more specifically dogs. Although its more of a challenge it is not impossible as there are some places that allow pets. A pet owner will need to spend more time scouting for a place. Read Moving with Pets