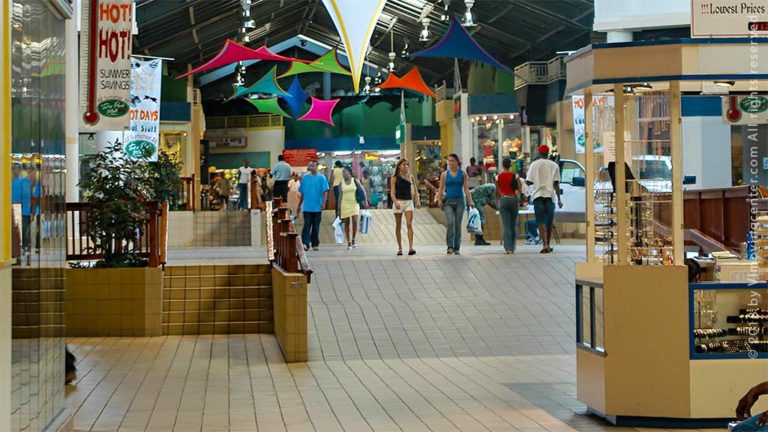 A popular question from Americans moving from the continental USA to the U.S. Virgin Islands concerns whether they will find familiar stores and brands; and whether stuff is available. The short answer is: a few U.S. stores are here; many stores carry U.S. branded goods; and we've got all the regular day to day stuff one needs. Let's take a closer look.
U.S Chains & Types of Stores
On St. Croix and St. Thomas there are several U.S. chains like Home Depot, Ace Hardware, Office Max, K-mart, Walgreens, Rainbow, Foot Locker, Payless Shoes, Champs Sports, McDonalds, Wendy's, Kentucky Fried Chicken, Subway and Pizza Hut. There are also regional chains like Cost-U-Less and PriceMart, both being mid-size warehouse stores offering food and general merchandise. And there are independently owned local businesses. On St. John there are only local businesses. Some St. John residents make regular trips to St. Thomas to shop. On Water Island there aren't any stores at all, so residents do their shopping on St. Thomas.
Grocery Stores & Brands
The grocery stores that exist on the larger three islands carry many U.S. brands. You will also find popular Caribbean products and foods so get ready to see things like chicken feet neatly packaged in the meat aisle, pigs' tails and snouts, tropical fruits and veges, and a variety of hot pepper sauces!
Clothing and Shoes
What else does VIMovingCenter.com have to say about availability of goods in the Virgin Islands? Let's talk clothes and shoes. If you are moving from a place where you have a bunch of malls with lots of stores, and you love shopping then you better get your fix before you move. You won't be so limited that you will start considering a grass skirt or a coconut bikini top, but just be aware that there aren't a whole lot of options for clothes and shoes. The closest island with big mall shopping is Puerto Rico, and residents of the USVI sometimes head over for a weekend of shopping. You can always order things online. See the section on online shopping below.
Furniture & Household Goods
Getting furniture and household goods is pretty much the same as clothing, but tougher since its pricey to ship bulky items. If the shops that exists don't have anything that you like, you can try looking in the classifieds. There are often people moving apartments and selling items; or leaving island and having house sales. Do it yourselfers can opt to make furniture pieces, supplies are available at hardware stores. Try Pinterest for some inspiration.
Home, Car, Boat & Hobby Supplies
Locally owned businesses and some big box stores sell gardening supplies, lumber, plumbing supplies, paints, tiles and so forth. There are stores with supplies for boating, automotive care and water sports – though the choices may be just a couple stores for each specialty. Items related to hobbies, such as yarns, embroidery treads, paint, canvas, or model car kits can be very hard to find.
Local Fish & Produce
Purchasing fresh fish from fishermen at markets and roadside selling points is possible on St. Croix, St. Thomas and St. John. Availability of local produce varies by island, but generally can be purchased at regularly scheduled farmer's markets, through cooperative programs, roadside stalls and at fairs. For both fish and produce the availability is much less than the demand. Learning the vendor's schedule, locations and getting to the vendor early are tips for increasing the odds of finding a good selection.
Shopping Online
We bet you are thinking, it's ok if shopping is limited in the U.S. Virgin Islands, everything is available online nowadays, I'll just order it! And you absolutely can (try to) order it online. The catch here is quite a few online stores will not ship to the U.S. Virgin Islands because… well because they don't know we exist! Only partly kidding. You'll understand that statement better once you moved to the USVI. So the main reasons are: the USVI its outside the contiguous 48 states of USA; because most shippers like DHL, UPS, FedEx etc., everybody except USPS, view the islands as international; there are restrictions on shipping certain products; and because they just don't. Check your favorite online shops and see if they will ship to the USVI. PS: This topic comes up often on our Message Board, so you can take a look there for a list of stores with USVI shipping. There are a couple work arounds on this topic: ship small things to your family or friends and have them send the package to you; and for larger items there are freight forwarding services available.