Moving Stories
More Moving Stories
Story #10: Story from a St. Thomas Resident!
(Submitted in 2002) I love the water and weather the most. I also enjoyed being able to spend more time with family and friends. I did not particularly like the cost of housing and groceries. One thing to expect is that things take longer. It takes a while to get utilities hooked up, drivers license changed over, car registered… I don't like that there is a partial lack of community things to do. There is a lack of variety in things to buy, so often times you have to pay to bring it down for the states. I recommend you come down for a couple of weeks before deciding to live here. Even though you can not truly experience what it is like to live here until you actually do live here, you do get a better idea about the islands then just reading or hearing about them.
Moving to the U.S. Virgin Islands?
The Settlers Handbook for the U.S. Virgin Islands is your guide to moving to St. Croix, St. Thomas, St. John and Water Island.
The current 18th Edition, released in January 2016, will help you explore your dream of island living. A solid reference book, it was first published in 1975. That's 40 years of helping people move to the islands. A must read. Order today.
Order Today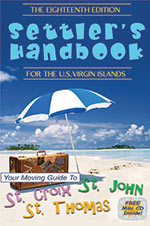 Only $17.95
$18.95
Living In De V.I. - An Introduction for Newcomers (DVD)
General Information: Learn about the territory's weather, language, flora and fauna, government, infrastructure, history, transportation, hospitals, activities and more! Have frequently asked questions answered. 'Can I commute between islands?' 'What are cisterns?' 'Are there snakes?' Enjoy island culture as Alex takes you to local events such as the Carnival. Visit both the St. Thomas and St. Croix campuses of the University of the Virgin Islands.
Buy Now
Advertise
Join VIMovingCenter.com Today!
Tell prospective and current residents about your business.
Proud Supporter
VI Olympic Team
For over 45 years, the Virgin Islands has celebrated the Olympic tradition by sending our athletes to compete.