Moving Stories
More Moving Stories
Story #37: Moved to St. Croix Story
(Submitted in 2005) I moved to St. Croix five years ago, to marry a local guy from an "old Crucian family" i.e.. a true Virgin Islander. I admit that my experience has been different than that of most "Continentals" since I am married to a local.
For the most part, the last five years have been good. I live on a (mostly) beautiful island, enjoy fresh air and an outdoor life. My husband and I own a small house on a beautiful lot with just about every tropical fruit you could imagine. Sure I miss a LOT of what the US has to offer but then I can always go back and visit, which I do.
HOWEVER, having said all that, this island is trash infested and crime ridden! Sure there are nice areas, like Buck Island and Jacks and Isaacs Bay, but you would be hard pressed to name virtually any other beach that isn't littered with diapers, condoms, beer bottles etc. My husband (again, born and raised on St. Croix) has told me what it used to be like here back in the 60's and 70's. Go to the BVI, that's what it used to be like here, he says.
Gov. Turnbull is so fond of saying that the US is "colonializing" St Croix and he wants the VI Government to continue to run their own affairs YET wants the US to keep sending money! Many locals say that if the US were to pull out, and stop sending federal dollars, the Virgin Islands would turn into another Haiti. There is way too much corruption for such a small island with so many living below the poverty line. I guess I should stop here, I've said too much, I could go on forever. But I agree 100% - this island is NOT a paradise! Once you are here, living your day to day life, you realize this. And, then you decide how long to stay. Me? I'm here for awhile, but I know I cannot live here forever.
Why are we still here if we don't like it here? Usually the reason is that, having spent a lot of $$ to move here, it takes awhile (as you know the salaries are not so high here) to save up enough to leave the island and start all over again somewhere else. It's not easy to just pack it in and go! Plus most people (like myself) even tho' they complain about the bad things, still find enough good things to keep them here. And some of us keep hoping for things to get better.
Moving to the U.S. Virgin Islands?
The Settlers Handbook for the U.S. Virgin Islands is your guide to moving to St. Croix, St. Thomas, St. John and Water Island.
The current 18th Edition, released in January 2016, will help you explore your dream of island living. A solid reference book, it was first published in 1975. That's 40 years of helping people move to the islands. A must read. Order today.
Order Today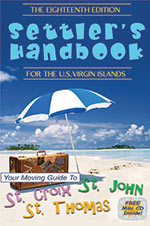 Only $17.95
$9.99
Guide Map of the USVI
This beautiful map is full of information, a definite Map Guide! On side 1 are St. Thomas and St. John with close ups of main towns/areas like Cruz Bay, Coral Bay and Charlotte Amalie. On side 2 is St. Croix with close ups of Frederiksted and Christiansted.
Buy Now
Advertise
Join VIMovingCenter.com Today!
Tell prospective and current residents about your business.
Proud Supporter
VI Olympic Team
For over 45 years, the Virgin Islands has celebrated the Olympic tradition by sending our athletes to compete.