Moving Stories
More Moving Stories
Story #5: Story from a USVI (St. Thomas, St. John and St. Croix) Resident!
(Submitted in 2003) On a Sunday in 1986 I met an island boy in a Fort Lauderdale reggae club. He was tan, blond and a surfer, perfect! I couldn't live without him so I followed him 9 months later to the Virgin Islands where he grew up. I would like to start this story off with a warm toasty feeling of my mother waving me off with a tear in her eye that September 24, 1987. I remember she said, "don't let yourself go" and not knowing what she meant by that, but the journey actually didn't start there, it started a few weeks earlier when I drove North to deliver my boyfriend's brand new jeep to a shipping company. A simple trip with a simple mission. It turned very emotional when I accidentally bumped one of their workers with the protruding mirror I was not used to. He actually made me cry. I was so upset. Was this a sign? Should I gather my things from the jeeps storage, my worldly treasures and call it quits. I mean, what does the Virgin Islands hold for a newly graduated graphic artist? I wiped my eyes and moved to the islands. I my first week was spent soaking in the sun, touring the island and meeting my boyfriend's friends. The ones that he grew up with. The ones that said, "we aren't going to get to know you until you've been here for a year." Hmm, thanks for the warm welcome. The second week was spent swimming, sailing and snorkeling the north shore. The first and the only time I ever came in contact with Fire Coral. "You don't have to tell me again, wow, did that hurt! In between all of this fun and sun I swatted the mosquitoes as I chomped on mangos. A few days later, I had mango poisoning and sun poisoning on top of that. So a recap; My first few weeks were spent with sun poisoning, fire coral burns, mango poisoning and mosquito bites. By the way, this story does have a happy ending so keep reading. After two weeks of doing the island thing my way I was ready to go job hunting. My first stop was a print shop. They needed a graphic designer full time. I pulled to the lot in the brand new black jeep, blond hair blowing in the wind, portfolio in hand. I spot the women of the office peered out. A comedy of errors so to speak and I was hired at a whopping $5.00 an hour. Later that month, one of the older island women said to me, "this is as far as you will go in the islands." Thanks Ada. That was 16 years ago. Today, I am pleased to say that Ada is wrong. I have been the resident artist at the prestigious Caneel Bay for over 8 years. I have been a very successful property and rental manager and owned waterfront property in St. John. Not because of a trust fund or money that someone left us, but from hard work and determination. Currently I am the resident artist at The Ritz-Carlton in St. Thomas and I also the sole proprietor of Blue Turtle Gallery in Charlotte Amalie. I've been through 3 major hurricanes, owned 3 successful businesses, and have lived on 3 of the 4 Virgin Islands and can honestly say that I'm happier than most of my friends living on the mainland. Has it been work? You bet! Has it been worth it? You bet! I love the islands! It is my home as wacky as it may seem to some. This land has great opportunity to anyone who wants to work, who embraces the culture and it's kaleidoscope of people. For those who want to stick with it even when the power is out and there is not hot water. (A sense of humor can be helpful too.) Nothing is easy, but at the end of the day you have the option of looking out at the beautiful water and washing the day away with a quick dip at the beach just down the street. Because if you do live here, the beach IS just down the street. It's an adventure and I recommend it to anyone with an open mind and a good attitude. When someone says as they roll their eyes and moan, "oh! Nice life", I say, "Hey, someone needs to set an example!"
Moving to the U.S. Virgin Islands?
The Settlers Handbook for the U.S. Virgin Islands is your guide to moving to St. Croix, St. Thomas, St. John and Water Island.
The current 18th Edition, released in January 2016, will help you explore your dream of island living. A solid reference book, it was first published in 1975. That's 40 years of helping people move to the islands. A must read. Order today.
Order Today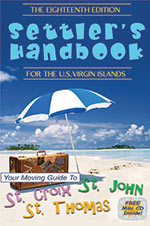 Only $17.95
$18.95
Desiring Paradise: A True Story of Succumbing to the Dream
If you've ever considered moving to the USVI, or if you know someone that wants to, this book is for you. Desiring Paradise is a true story about two New Englanders who followed their dream.
Buy Now
Advertise
Join VIMovingCenter.com Today!
Tell prospective and current residents about your business.
Proud Supporter
VI Olympic Team
For over 45 years, the Virgin Islands has celebrated the Olympic tradition by sending our athletes to compete.