Moving Stories
More Moving Stories
Story #23: Pre-Move Story from a Prospective St. Thomas Resident!
(Submitted in 2004) I made an exploratory trip to St. Thomas and returned a few days ago. Within 5 days I was able to get a condo rented to live in and found a nice small business that distributes things on St. Thomas and St. John to bars and eating establishments that I may get involved with in addition to the business I am moving there. I found this through a friend from when I used to go to St. John all the time. I was amazed at what a big deal banks make about your address, but was able to get my bank accounts opened and a PO Box at Redhook mail services.
Found a place to rent near Redhook and will stay there until I find a more permanent place.
I was amazed at how tough the housing market is but you can do it with a lot of running around.
My plans are to live in St. Thomas about 2/3rds of the year and in Pennsylvania the other 1/3rd of the year. Though my plans were to move permanently to St. Thomas later in life I bet I will find myself staying now. After not being for a couple years, I had almost forgotten how absolutely beautiful the Islands are and how much nicer the life is if that is your thing. It definitely is mine.
I need to decide if I want to ship a vehicle or buy one here along with a ton of other things.
I will be coming to St. Thomas 10/22 and am really looking forward to it.
Moving to the U.S. Virgin Islands?
The Settlers Handbook for the U.S. Virgin Islands is your guide to moving to St. Croix, St. Thomas, St. John and Water Island.
The current 18th Edition, released in January 2016, will help you explore your dream of island living. A solid reference book, it was first published in 1975. That's 40 years of helping people move to the islands. A must read. Order today.
Order Today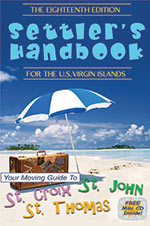 Only $17.95
$18.95
Living In De V.I. - An Introduction for Newcomers (DVD)
General Information: Learn about the territory's weather, language, flora and fauna, government, infrastructure, history, transportation, hospitals, activities and more! Have frequently asked questions answered. 'Can I commute between islands?' 'What are cisterns?' 'Are there snakes?' Enjoy island culture as Alex takes you to local events such as the Carnival. Visit both the St. Thomas and St. Croix campuses of the University of the Virgin Islands.
Buy Now
Advertise
Join VIMovingCenter.com Today!
Tell prospective and current residents about your business.
Proud Supporter
VI Olympic Team
For over 45 years, the Virgin Islands has celebrated the Olympic tradition by sending our athletes to compete.