Moving Stories
More Moving Stories
Story #24: Pre-Move Story from a Prospective St. Thomas Resident!
(Submitted in 2004) I arrived on Saturday for my first visit to St. Thomas since deciding that this is where I would like to call home. After visiting St. Thomas for the past 8 years, and understanding that there are significant differences, I'm looking to make the move in the next 3-5 years.
As if fated, I found VIMovingCenter.com shortly after my February visit, and it has been intriguing to look at the place through new eyes, which is what I'm planning to do while here for the next two weeks.
I've got some appointments set up with some realtors to get a sense of what it costs to live in what I think I want to live in. It's different, as you know, thinking of a resort to stay in for a week and thinking of a location where you'd like to live from now on. As I have timeshares here, I'm also taking this opportunity to get a feel for the daily expenses (like the surprise I had a the grocery store yesterday - the coffee I buy at home for $5.99 a can is 12.99 here) - because eating out all the time, while fabulous and varied, is not how I'll behave when I move - fascinating which things are higher - liquor is dirt cheap but wine, ohh la la...
I have been fortunate to become acquainted with a number of local people, and if makes all the difference in the world in helping a type-A such as myself understand what works here and what does not. I also have read the many messages on the USVI Moving Message Board about obstacles and barriers, etc,, etc. and I laugh because as a Chicago native, the issues raised about living on the islands are no different, in this context, than issues that occur anywhere else - I think expectations are skewed because a one-day cruise stop or a one-week visit five years ago is not the same as the day-to-day.
In any case, just wanted to let you all know there's one more person on the quest.
Moving to the U.S. Virgin Islands?
The Settlers Handbook for the U.S. Virgin Islands is your guide to moving to St. Croix, St. Thomas, St. John and Water Island.
The current 18th Edition, released in January 2016, will help you explore your dream of island living. A solid reference book, it was first published in 1975. That's 40 years of helping people move to the islands. A must read. Order today.
Order Today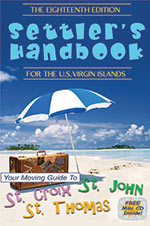 Only $17.95
$18.95
Desiring Paradise: A True Story of Succumbing to the Dream
If you've ever considered moving to the USVI, or if you know someone that wants to, this book is for you. Desiring Paradise is a true story about two New Englanders who followed their dream.
Buy Now
Advertise
Join VIMovingCenter.com Today!
Tell prospective and current residents about your business.
Proud Supporter
VI Olympic Team
For over 45 years, the Virgin Islands has celebrated the Olympic tradition by sending our athletes to compete.