Infrastructure
The infrastructure systems within the U.S.V.I are some of the best in the Caribbean. Roads are paved. Mail Service is provided by the federal postal system. Internet service and utilities are good. Banks are found throughout the islands. Police and fire fighting teams are available.
Infrastructure Table
Government: The U.S.V.I are an American territory governed by US laws. The constitution used by the territory is the 1954 Revised Organic Act of the Virgin Islands, amended in 1968-1972. The President of the United States, Donald Trump, is head of state. A locally elected governor and legislature administer the islands. The present Governor is Kenneth Mapp
Phone Service (Landline): Landline telephone service is supplied by Viya, the sole provider of residential and business land line telephone. All landline calls within the U.S. Virgin Islands are toll free. Tolls are charged only when calling outside the USVI. There are several long-distance service providers.
Phone Service (Cellular): Wireless phone service is widely available on all four islands; several providers exist. Please check with your current provider if you are relocating or vacationing in the U.S. Virgin Islands, as roaming charges may occur depending on your carrier.
Internet Service: Wireless Internet service is delivered by a small externally mounted antenna or a small inside wireless modem. You must have line of sight to use wireless broadband. Wireless Internet service typically restricts monthly data usage due to the type of network the service is delivered over. Need for wireless or wired service may be dependent on your location in the Territory. High-speed fiber Internet for businesses and residents is also available at a wide variety of speeds up to Gig-E.
Television: Wired cable television service is available with all the familiar U.S. stations and shows. Satellite service is also an option.
VIYA
Viya is the U.S. Virgin Islands' top communications and entertainment provider. Viya offers advanced communications solutions for home or business including cable TV, Internet (wired and/or wireless), Telephone and 4G LTE cellular phone service. Viya brings contract-free, scalable options and fast installation across services. Stop by one of our Customer Experience Centers: Tutu Park, St. Thomas; Estate Diamond Christiansted, St. Croix; Market Place, St. John or give us a call at 340-777-VIYA (8496). More information on Viya's packages and rates can be found online at www.viya.vi.
Mail: The United States Postal System provides mail service in the USVI. Several post offices are located on St. Thomas and St. Croix. St. John also has a post office. Water Island uses St. Thomas' postal set up for its delivery. Additional courier services include Federal Express and UPS.
Banks: Major banks are available on St. Thomas, St. John and St. Croix; including Citibank, Banco Popular de Puerto Rico, The Bank of Nova Scotia, First Bank and Virgin Islands Community Bank. Your ATM card is the best bet to insure you have cash on hand during your move. After you have settled you can look at your options and open an account at one of these bank branches. Credit Cards are widely accepted throughout the U.S.V.I.
Electricity: The Virgin Islands Water and Power Authority (WAPA) produce and distribute electricity for all four islands. Although the power utility is maintained well, sporadic power outages do occur. It is a great idea to have flashlights and candles on hand. It is highly suggested you put all electronics on surge protectors and computer equipment on battery pack/surge protectors.
Gas: Many residents use gas powered stoves for cooking. Gas is available from various companies throughout the islands. Electric stoves are also common. Gas is preferred because when the power is out, or after hurricanes gas stoves can still be utilized.
Water: The Virgin Islands Water and Power Authority only provides city water in and around the main town. Very few areas have access to city water. Cisterns are used to collect rainwater. A cistern is an artificial reservoir, usually underground used to store water. The water is collected on the roof of the home or in small gutters around the roof, which then runs through pipes into the cistern. A pump is used to transfer the water from the cistern to your pipes. Water conservation is an important topic in the U.S.V.I, as rainfall averages only 38 inches a year. If your cistern should go low, you can buy a truck of water from one of several water companies.
Waste Disposal: Throwing out garbage is a matter of you taking it to the dumpster yourself. There are large dumpsters at set locations around the islands and it is your responsibility to properly bag and dispose of your own garbage. Large items should be taken straight to the landfill and not to the neighborhood dumpsters. Large businesses have private haulers that come by and empty their private dumpsters. Recycling is possible, not on a large scale though – ask about it when you arrive on island. Residents in the city have sewers for liquid waste. Everyone else depends on septic systems.
Roads: Roads on all islands are paved. Roads are often steep and windy as the islands are a bit hilly in nature. Some dirt roads exist to beaches or private undeveloped properties. St. Thomas and St. Croix have highways. On St. Thomas there is the Waterfront Highway, Harwood Highway and Weymouth Rhymer Highway. On St. Croix there is the Queen Mary Highway and Melvin Evans Highway. Highways in the U.S.V.I are not necessary large multi lane roads as you find in the mainland. They might just be bigger then the normal 2 lane road. The U.S.V.I does have one highway on St. Thomas and one on St. Croix that consist of 4-lanes; all other roads are 2 lanes (one in each direction). All public roads have signage with road numbers, speed limit, directional signs like Stop, Yield, stoplights among others. Stoplights can be found on St. Thomas and St. Croix. There are no stoplights on St. John or Water Island.
Transportation: St. Thomas and St. Croix have airports. Major airlines travel to and from these two islands. St. Thomas and St. Croix are also connected by commuter airlines and by water ferry. St. Thomas is connected to Water Island and St. John by water ferry. A public bus system called Vitran, operates on St. Thomas, St. John and St. Croix. Taxi service is also available on these three islands. Water Island has no public bus system. Most residents drive cars of some sort or golf carts. Personal cars are the best bet for personal transportation. Read more on Transportation.
Health Facilities: Schneider Regional Medical Center is the umbrella entity for three healthcare facilities that serve as one integrated health system for St. Thomas and St. John: the Roy Lester Schneider Hospital (St. Thomas), the Charlotte Kimelman Cancer Institute (St. Thomas), and The Myrah Keating Smith Community Health Center (St. John). Schneider Regional is one of the largest businesses in the territory, employing over 500 employees and 70 physicians on active staff with specialties ranging from cardiology, oncology, neurology, ophthalmology, and orthopedics. The organization is fully accredited by the Joint Commission on Healthcare Organizations (JCAHO). For more information, visit them online at http://www.srmedicalcenter.org or call (340) 776-8311. When registering for services, be sure to bring your insurance card, picture ID, and proof of mailing address (utility or telephone bill).
On St. Croix there is the Juan Luis Hospital and Medical Center. Visit them online at http://www.jflusvi.org/.
Pets/Veterinarians: The islands are a great place for your pets to come live with you. However island life does create some new responsibilities or you, the pet owner. The islands are warm and worms and ticks are a problem. Insects like bees and centipedes as well as frogs can make your pets sick. There are veterinarian offices available on St. Thomas, St. Croix and St. John for your pet's health and safety.
Houses of Worship: There are a varied and diverse number of churches and religious congregations in the U.S.V.I. Ranging from Catholic and Methodist to Baptist, Episcopal and Seventh Day Adventist. There are a greater number of houses of worship on St. Thomas and St. Croix. St. John also is home to a handful and Water Island will from time to time have a non-denomination service on Honeymoon Beach for residents who wish to attend.
Libraries: St. Thomas, St. John and St. Croix have public libraries. St. Croix and St. Thomas have a university library as well. All schools have school libraries.
Radio: FM and AM stations are numerous on all four islands. Local radio stations include WAVI, WJKC, WSTA, WVWI and WVGN. Broadcast from the mainland are often provided via one or more of these local radio stations.
Newspaper: There are two local daily-published newspapers; the VI Daily News on St. Thomas and the St. Croix Avis on St. Croix. For world coverage in US newspapers you can pick up copies of the New York Times, Miami Herald, Wall Street Journal among others. Other local periodicals are printed on monthly or bi-weekly basis covering sports, entertainment, business and St. John news.
Moving to the U.S. Virgin Islands?
The Settlers Handbook for the U.S. Virgin Islands is your guide to moving to St. Croix, St. Thomas, St. John and Water Island.
The current 18th Edition, released in January 2016, will help you explore your dream of island living. A solid reference book, it was first published in 1975. That's 40 years of helping people move to the islands. A must read. Order today.
Order Today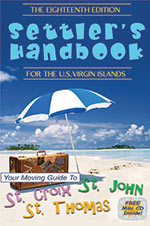 Only $17.95
$11.95
The Wild Life in an Island House
Are you planning to move to the Virgin Islands? Want to learn about the critters that will be sharing the island and maybe your home or apartment with you?
Buy Now
Advertise
Join VIMovingCenter.com Today!
Tell prospective and current residents about your business.
Proud Supporter
VI Olympic Team
For over 45 years, the Virgin Islands has celebrated the Olympic tradition by sending our athletes to compete.