Availability of Goods
A popular question from soon-to-be residents of the U.S. Virgin Islands is "Am I going to find the shops and products I am accustomed to using". The short answer is: that products and brands typical in the United States are the ones most commonly found in the islands; you will also find popular Caribbean products and foods; and finally you will find all the basic items needed to live comfortably. For the longer answer, keep reading.
If you are moving from a large town or city where you are used to having many stores to choose from and big selections of brands and products; then chances are once you get to the Virgin Islands you will be in for some adjustments. You will not find the same large selection of shops in the U.S. Virgin Islands. If you are moving to the islands from a small town, then you may be used to limited selections and may not find much difference.
In the U.S. Virgin Islands the size of the island is a good predictor of the variety and number of grocery stores, retail shops and restaurants that exist.
St. Croix and St. Thomas are the largest islands within the group; and they offer the most options.
St. John has the basics covered, and residents often make a monthly shopping trip over to St. Thomas in order to stock up at its larger stores.
On little Water Island residents depend entirely on St. Thomas for shopping.
Grocery Stores
Grocery stores on St. Croix, St. Thomas and St. John generally stock popular U.S. brand products. Larger stores typically have an aisle with selections of foods and spices for making Asian, Mexican, Mediterranean dishes. Some stores offer specialty brand products, cheeses and wines. Convenience stores also exist.
Local Fish & Produce
Purchasing fresh fish from fishermen at markets and roadside selling points is possible on St. Croix, St. Thomas and St. John. Availability of local produce varies by island, but generally can be purchased at designated outdoor markets, through cooperative programs, roadside stalls and at fairs. For both fish and produce the availability is less than the demand. Learning the vendor's schedule, selling locations and getting to the vendor early in the morning are tips for increasing the odds of finding a good selection. There are also roadside vendors that sell Caribbean fruits and vegetables imported from neighboring islands.
Clothing Malls and Shops
On St. Thomas and St. Croix there are small shopping centers with some U.S. shops like Marianne's, K-mart, Radio Shack, Foot Locker, Champs, Rainbow and Office Max. On St. John the shopping options are of a boutique nature. With only one season in the U.S. Virgin Islands, summer; finding swimwear, shorts and flip-flops is pretty easy. That said finding dress cloths, evening wear and dress shoes can be challenging. Some residents visit Puerto Rico for a shopping weekend or stock up on cloths when visiting the U.S. mainland. Mail order is an option. It is worth noting however that while some U.S. stores will ship to the U.S. Virgin Islands, quite a few will not.
Home, Car, Boat, Hobby & Other Supplies
Locally owned businesses and some big box stores like Home Depot and Ace Hardware sell gardening supplies, lumber, plumbing supplies, paints, tiles and so forth. There are stores with supplies for boating, automotive care and water sports – though the choices may be just a few stores for each specialty. Furniture stores exist but the selection is limited. Items related to hobbies, such as yarns, embroidery treads or model car kits can be hard to find.
Restaurants and Fast Food
Restaurant options are varied on St. Croix, St. Thomas and St. John from fine dining to casual bar food. On Water Island there are a couple dining options. Looking for American Fast Food, there are a few options on St. Thomas and St. Croix including Wendy's, McDonalds, KFC, Pizza Hut, Subway, and Domino's Pizza.
Mail Order
Some U.S. based companies will not ship to the U.S. Virgin Islands; some do ship but charge high shipping charges; you might have to call some stores and explain where the U.S. Virgin Islands are located and the availability of USPS as a shipping option; and then of course there are some stores where ordering and shipping to the Virgin Islands is easy. So if you have favorite online stores or catalogs, you should research whether they ship to the U.S. Virgin Islands. The folks on our Message Board from time to time have a discussion on which companies ship to the USVI, so you can do a search of the message board's past discussions or start a new thread and get some help from fellow residents.
Moving to the U.S. Virgin Islands?
The Settlers Handbook for the U.S. Virgin Islands is your guide to moving to St. Croix, St. Thomas, St. John and Water Island.
The current 18th Edition, released in January 2016, will help you explore your dream of island living. A solid reference book, it was first published in 1975. That's 40 years of helping people move to the islands. A must read. Order today.
Order Today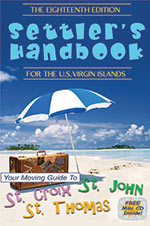 Only $17.95
$9.99
Guide Map of the USVI
This beautiful map is full of information, a definite Map Guide! On side 1 are St. Thomas and St. John with close ups of main towns/areas like Cruz Bay, Coral Bay and Charlotte Amalie. On side 2 is St. Croix with close ups of Frederiksted and Christiansted.
Buy Now
Advertise
Join VIMovingCenter.com Today!
Tell prospective and current residents about your business.
Proud Supporter
VI Olympic Team
For over 45 years, the Virgin Islands has celebrated the Olympic tradition by sending our athletes to compete.