Transportation in the Virgin Islands
All main island roads are paved, so the best mode of transportation is a car, jeep, truck or in other words a motored vehicle.
Cars
Cars, jeeps, trunks are by far the most common way to get around. You will find quite a number of them on St. Thomas, St. Croix and St. John. On Water Island you will find a few cars and golf carts.
Motorcycles
There are some motorcycles on St. Thomas and St. Croix, fewer on St. John.
Scooters
Scooters are just getting started on St. Thomas as a method for visitors to get around for the day while visiting on cruise ships. A few residents use them for transportation, but not very many. The roads here are fairly steep and windy making scooters a poor choice for everyday transportation. They are not yet common on St. John as the roads are better suited for cars, jeeps and trucks. Scooters are not common on St. Croix.
Bicycles
Bicycles are more for sport then transportation; the roads in the VI are steep so you don't find much bicycle riding in general. Ffor those interested, St. Croix has a half man triathlon race that includes grueling bike competitions.
Hitchhiking
Although not recommended as a sole form of transportation, you can hitchhike; St. John and St. Thomas are more hitchhiking friendly then St. Croix, however it still is not extremely common. It is more common on St. John then on the other islands.
Bus
There is a public bus system functioning on St. Thomas, St. Croix and St. John. It definitely has room for improvement, however can be used to get around if you learn the route well and allow time for it taking a long time and/or the bus being late. No buses on Water Island.
Taxi
Taxis can be easily found in the U.S.V.I, with the exception of Water Island where there are no taxis. On St. Thomas, St. John and St. Croix taxis are common and easy to use and costly if you use them often. Taxis charge per person and per destination, they are not metered.
'Dollar Rides' or 'Dollar Taxis'
There are taxi drivers that run 'dollar rides' in safari buses on St. Thomas and St. Croix. A safari is a truck that has been outfitted with bench seating in the back. It is open air but covered. Not all safari buses are 'dollar rides', some are regular taxis. The 'dollar rides' do not have signs identifying them as such; however they generally run the same route as the public bus and pull in or close to bus stops. If in doubt ask the driver before boarding. Also ask where they are heading to make sure they are going the route you want to go. They are for the most part un-regulated, and operate mostly to assist with the transportation needs of residents. Some 'dollar ride' drivers charge non-residents regular taxi rates.
For St. Thomas
Dollar rides are $1 for short trips like: anywhere in town between the University of the Virgin Islands and the Hospital (Schneider Regional Medical Center), traveling to points between the Hospital and Pricesmart (supermarket), traveling from one point in the country to another (country is used to describe the middle and east end of the island). The fare is $2 for longer cross-island trips like: traveling from the Hospital to Pricesmart and beyond and traveling from Pricemart and beyond to anywhere in town.
Moving to the U.S. Virgin Islands?
The Settlers Handbook for the U.S. Virgin Islands is your guide to moving to St. Croix, St. Thomas, St. John and Water Island.
The current 18th Edition, released in January 2016, will help you explore your dream of island living. A solid reference book, it was first published in 1975. That's 40 years of helping people move to the islands. A must read. Order today.
Order Today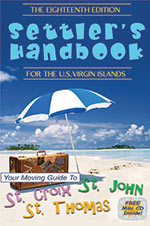 Only $17.95
$11.95
The Wild Life in an Island House
Are you planning to move to the Virgin Islands? Want to learn about the critters that will be sharing the island and maybe your home or apartment with you?
Buy Now
Advertise
Join VIMovingCenter.com Today!
Tell prospective and current residents about your business.
Proud Supporter
VI Olympic Team
For over 45 years, the Virgin Islands has celebrated the Olympic tradition by sending our athletes to compete.