Banks for land loans on STJ
Do banks from the mainland do land loans for STJ property or do I have to go through a USVI bank?
Thanks.
USVI banks only, unless you have alot of assets you can cross collateralize, then Merrill Lynch may look at it. Local banks do have higher loan to values than stateside, but terms are 5 year balloons on maybe a 20 year amortization. You'll have to have enough income to service the loan since it is not rental property. They may also help with construction financing if required.
rh1958,
My husband and I went through Shaffer Mortgage out of Palm Beach Fl area. Here is the website: http://www.mtgbiz.biz/ and ask for Matt. I think he is the owner. He will email you the applications. You sign your life away and express mail back. We were approved very quickly and were able to buy points for a 30 year fixed rate. We had to put 20% down because our place is a 2-4 multi family. You should have no problems and tell Matt I sent you. He will probably laugh but he will be pleased for the business opp. I imagine I am the most current Eve he knows right now.
Buying undeveloped land versus buying houses and condos often means you need a different mortgage broker or bank. The few mainland mortgage brokers I know of who are licensed to underwrite residential loans are NOT licensed to underwrite loans for vacant land. You will likely have to go through a USVI bank to get a land loan.
If you come across anyone who can underwrite land for low down payments, please do let me know! I can send them quite a bit of business.
No disrespect Eve, but as Alexandra mentioned, Schaffer doesn't do land loans here, unless it is private money which is usually much more expensive. He is a broker like most lenders here, and does FNMA loans which does not include land loans. His website does not mention land loans as a product he offers. IMHO, check the local banks first.
You mentioned you were "able to buy points for a 30 year fixed rate", did you pay a discount to get a lower rate? The only additional adjustment for 3-4 units is 1.5 points (none for 1-2 units). Paying for a temproary buydown costs even more. You should get a rate well under 7% for that.
Here is what my recent research has found ( I should have kept better notes) while shopping for a land loan for St. Croix (most rates were prime + 1):
First Bank VI - 35% down, 8.5%-9.5% ( I believe 7 yr loan)
Banco Popular - loans up to $125K (8.5%, 10% down, 15 years), over 125K 9.5%, 7 years, 35%-50% down
Scotia Bank - 6.99 5 yr arm, 10 years, 25% down ( I believe 1-1.5 points)
Bank of St. Croix - 25% down, 7 years, 9.75% (adjustable rate)
Virgin Islands Community Bank - 50K max land loan (didn't get any other info after that fact was stated)
Liberty - Homes only, no land and no construction
Schaffer - Homes and construction, no land
Flagstar Bank - no land or construction
Coastal Financial Co - No land and no construction
Allied Home Mortgage - no land and no construction
Family First Mortgage (STT) - no land loans
In my opinion Scotia seems the best option for us.
Chad
It was only a thought to call Shaffer, he did us good and yes we are well under 7% with the points bought. Buying points through the island banks was 1/2 to a full point higher with your 5 year balloon. If he doesn't do land than he doesn't. I don't know, I just said to call. He is buying an office on STX so maybe philosophy and underwriters are expanding. I think that it does not hurt to call and ask though. In the long run; I'm glad I did.
The Bank of St Croix was bought by United Fidelity Bank in Evansville, Indiana.
We did our mortgage through them last winter and their rates seem competitive for the area.
Looking at their mortgage rates page
https://unitedfidelity.mortgagewebcenter.com/CheckRates
It doesn't look like they offer land only loans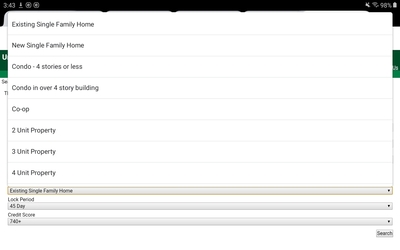 We wound up doing our mortgage as a portfolio loan (one they don't resell). I don't know if they would do something like that for you on land, but depending on your expected loan to value they might be willing to talk to you. We did 70% (on an existing house), but my guess is they would want to keep their risk at or below 50% LTV if they're willing to discuss it...
Good luck!
@rewired Thanks for checking on that And sharing! Our goal is to have at least 50% (preferably more) for our downpayment for land only. Ideally 100% would be the ultimate goal so no loan needed.  It will be a while before we can start building but would like to try to buy the lot maybe next year or in the next few years. We really like the North Shore area and the West End and rainforest areas. Who knows with this pandemic when we will be able to get back on island to go look at places we have in mind but more importantly we just hope this pandemic is behind us all in the near future globally. Day dreaming of STX has been our greatest brain vacation during these uncertain times surrounding us all~we are very grateful of this website to learn so much about the USVI relocation tips and tricks 😁 We have added quite a bit to our notebook journal from reading posts on here. 
You may also be able to get owner financing for some part of it. The way interest rates have been, it can't hurt to ask.