Motorhome for sale for your stateside vacations or road trips
Ready to travel vacations, or move back to the states but don't want 
to rush to buy a house? Not sure exactly where you want to live 
or just want to travel and see the US? Yep that was us a few years ago 
after a wonderful 10 years on St Croix. Now we are onto our next chapter! 
Our motorhome info is listed below! Ps enjoy the parade for us too ;) Cheers!
Ready for travel or full time. Just returned from 4 month 12,000 mile trip. Well maintained 40' 2000 Monaco Windsor motorhome with only 67,000 miles. ISC350 Cummins Diesel, side radiator, 6 speed Allison transmission, 270" wheel base, semi-monocoque RR8S Roadmaster chassis, 8 airbag chassis with 8 new shocks, good tires,updated engine pac brake. Onan 7.5kw diesel generator with only 872 hours. 1 full wall slideout, good awnings,auto air leveling, 4 door refrigerator w/ ice maker, oak cabinets, washer/dryer. Tire pressure monitoring system,safe-t-plus steering stabilizer for blowout protection, Air Force one and Roadmaster aux toad braking kit installed on motorhome, queen bed, dual a/c, 90 watt solar panel and lots of storage space.

Selling due to medical issues, priced for quick sale $29,500

towbar, toad (aka jeep to pull with you) and delivery may be available at additional cost

Unit is currently located in Florida with clear title!
Topic starter
Posted : March 14, 2019 7:29 pm
So sorry ..reposting to Classifieds.. 
Topic starter
Posted : March 14, 2019 7:31 pm
If it were a few years in the future, I'd be very interested.
Posted : March 15, 2019 8:16 am
Happy trails to you someday! A def must do! Bittersweet now as medical issues are the reason for the sale! BUT.. Such an amazing experience(s) 3/4 months of traveling out west each year for 4 yrs now. And started as our Hotel on wheels while we traveled all around Florida to find our new home!
Topic starter
Posted : March 16, 2019 1:32 am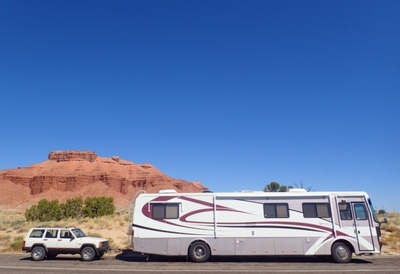 Here ia a photo Gator's Mom 😉 Are you in Fl or on stx these days? unit is available for viewing most anytime as we are retired 😉
Topic starter
Posted : March 27, 2019 9:30 pm