Hello everybody,
I'm soon going to move to St Thomas, my wife got a job there. We currently live in Florida, in the Pompano beach area, so we are already used to heat and beaches. What kind of changes should I expect in terms of temperature and climate? what about snakes and spider, anything weird out there?
Up to now we were living in a nice apartment and we would like to find a new condo there, is it possible? cheaper than FL (buying) or more expensive? We already invested in a condo here, but we would like to find similar project in St Thomas ; any chance?
Is it easy to find a good gym as well?
Posted : April 24, 2016 7:39 am
If you look at the top of this page you'll see a row of drop-down menus which cover pretty much all the basics of moving to and living here (including weather) - very comprehensive and lots of good information to go through.
No weird critters here but that depends on what you consider weird - the usual assortment of tropical denizens. Harmless snakes - many people who've lived here for years have never seen one. All sorts of spiders, some not so nice but again you may come across them rarely depending on where you live.
Enjoy all the researching!
Posted : April 24, 2016 8:54 am
I'll be looking for a gym too, although thinking beach walking with my fitbit and being the crazy lady doing the water aerobics at the beach might be the way I go. The gym is on my August/September to do!
Posted : April 24, 2016 11:12 am
The fitness center at University of the Virgin Islands is very popular.
Posted : April 24, 2016 12:22 pm
They do a lot of water exercise and water boarding (not the band kind) at Magens Bay. Really the only weird thing I ever see is those old men in the thong bathing suites that look like a wrinkled prune, BUt you are on a tropical Island, so there will be all kinds of creepy crawlies. No snakes to speak of like in Florida. Have you spent much time on the Islands? I hope you have, because living in Florida ain't going to prepare you for living on the Island.
mike
Posted : April 24, 2016 1:33 pm
Posted : April 24, 2016 2:36 pm
Centipedes.
Not that we don't have them here but judging from posts it seems you have more on STX than we do on STT. Rarely saw them South and East end of STT and now on the North side amidst tons of bush and with above average rain, only see one occasionally.
Posted : April 24, 2016 3:18 pm
Weird is subjective but nothing as bad as crocs and pythons here lol.
BTW isn't that blue centipede AMAZING??? It was a small one but Ive never seen those colors! I did have a 7 inch centipede chase me down my hallway not to long ago. I SWEAR I heard it laughing.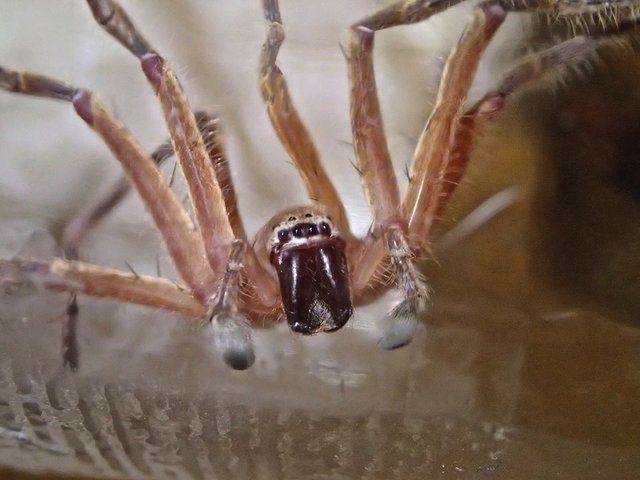 Posted : April 24, 2016 3:21 pm
Spiders, centipedes, (never seen one with that turquoise blue, tho) scorpions, ants, roaches, mice, rats, no seeums, mosquitoes, flies, cane toads, iguanas seem to be the most annoying but lizards are your friends as they eat bugs as do bats. Don't freak out about a lizard in the house or a couple, for that matter. We have no poisonous snakes. We do have a small endangered tree boa and there is a small variety of garden snakes which you almost never see.
Cane toads can be exceedingly dangerous for pets as they secrete a toxin from their skin, a milky substance, that if ingested by your pet can cause convulsions and death. See a veterinarian, immediately.
There have been reported cases of Zika virus on STX, STT, so if you're planning on having kids, you may wish to take that into consideration.
Posted : April 24, 2016 4:28 pm
The centipedes in my basement in Massachusetts aren't nearly as pretty as the blue one AandA2VI just posted.
And Mike thanks, as long as I go to Magen's Bay and jump up and down in the water I'll fit right in. Fantastic.
I'll find the wrinkled old men in thongs much much scarier than any critter on the island. May need a blindfold for that one.
And now off the boards and back to sorting out winter clothes to donate.
Posted : April 24, 2016 5:08 pm
Francis: Welcome to the funhouse!
A. Weather- I think ours is more livable.We don't have those horrid thunderstorms every afternoon in the summer. The tradewinds moderate the temperature. We do have hurricanes and you can't drive away from them like in Florida.
B. Critters- I do believe you have got us beat to heck! There are no poisonous snakes and once in a blue moon they will find a boa that someone released, but nothing like the python infestation up there. LOL
C. Condos- Highly recommend that you don't buy anything for about a year. There are no new condos. They were all built in the 80s or before, so lots of fixer-uppers... Everything is more expensive here, including condominiums.
Posted : April 24, 2016 9:03 pm
CONDO:
There are some condo units that are reasonably priced, but the monthly CONDO FEES can be outrageous!
Location will be important for daily commute and near activities you prefer.
It is best to rent first and determine what condo community you prefer and then purchase 6 months to a year later when you are certain that you will stay long term.
WEATHER
Temperatures are much more pleasant all year. Summer is 88-90 daily, not the hot summer that you have in Florida. Winter is 81-84 daily, not the cooler winter weather in Florida.
CRITTERS
My house is open all year and I have had a variety of critters around yard and sometimes in the house, but I find it interesting to be part of nature (iguana, lizards, coqui frogs, bats, and the list goes on). Most condo associations will keep areas treated and most Condo housing will be closed air conditioned units, so critters would be rare.
Posted : April 25, 2016 1:24 am
In all my years here the only thongs I've seen worn by anyone young or old at Magens or any other beach have been those on cruise ship visitors.
Posted : April 25, 2016 1:33 am
wow, never seen a blue one-its actually pretty
Posted : April 25, 2016 11:00 am
In all my years here the only thongs I've seen worn by anyone young or old at Magens or any other beach have been those on cruise ship visitors.
Not an image I'd like to see. Glad to see the locals have a bit more sense.
As to critters, I love them, creepy, crawly, it's all part of nature and a plus. That said I'd prefer not to have a roach infestation.
Posted : April 25, 2016 6:29 pm