We're here in St. Thomas
Hi all,
My family is here in St. Thomas; arrived Wednesday. For the past day and half we have been looking for a two bedroom, preferably two bedroom condo or house for a short term lease that allows a small dog (under 10 pounds). I have read on this message board of folks traveling with large dogs. I don't know how they do it. I only know of two hotels that allow dogs and we are staying in one of them. It was suggested that we look in the newspapers which we have done ( The Island Trader and the VI Daily News) and haven't found much. Most ads read no dogs. We would be willing to pay a deposit if that would make the landlord feel more comfortable. Does anyone have any thoughts on how to best approach possible landlords with regard to our dog? Our dog is very sweet and causes no damage. We have also been in contact with a couple of Realtors, Any help would be greatly appreciated. Right now I am feeling overwhelmed. Thanks.
Topic starter
Posted : October 30, 2008 11:25 pm
1st off Welcome!! - but please don't feel overwhelmed after less than 2 days! - not many condos will allow dogs for non owner residents as a set policy - many homes here do have an Apt. as part of the building so I would concentrate your energy there - call anything in the Island Trader that sounds good to you - go see it and meet the owner and you may find them more agreeable - while you are out driving around doing this you will also see for rent signs - you might ask at the humane Society if they know of any dog friendly rentals - get out there and network everywhere each day - many things here are solved via personal contact - the legendary 'coconut telegraph'.
If you have school age family ask at the school - go to the church of your choice and meet some of the people there.
Really just keep at it and keep asking - don't get discouraged - you will have a better feel for the different areas on the island in another few days and actually learn more about VI life daily.
Put the dog in the rental car with you when you go to visit a rental - the dog may just win the owner over and seal the deal!
Posted : October 31, 2008 12:00 am
Dogs are a must on the islands. We brought this dog down on March 18th, 1981. We took the two of the largest dog pen we could find, cut the end off one and cut the front off the other. We joined them with three feet long of riveted aluminum that surrounded the cage (friend of my father's had a company that did this sort of thing - I remember being in the empty building on a Sunday creating the aluminum shell) and fiber glassed the outside up to the plastic.
Here is the hard part to believe: Turbo was 220 pounds. American Airlines limits weight of animals brought aboard to 189 pounds, at the time. We starved Turbo for two weeks, and he was about 185/190 when we brought him, but the weight of the cage brought him to over 200 - so my father, as usual, bribed people at the airline. I watched him hand out some of the $100 bills; I do not know how much he spent.
This first picture of him shows him less than 2 years away from dying from old age, in STT:
This second picture shows what he was like when he was younger, in the 70s: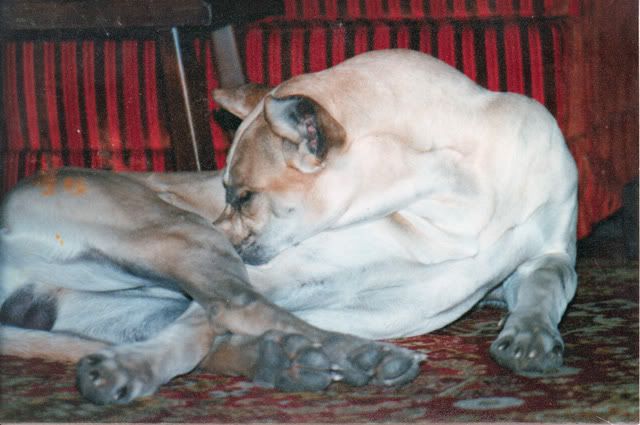 I am 6'1", and he easily stood a foot over me when he put his paws on my shoulders...
edit: He was abused before we received him. Starved, burnt with cigarettes, old broken bones that you could see. We gave him an excellent life his last few years.
It really was a good thing that we built such a strong cage, as Turbo went nuts at the airport, despite being on triple the sedatives the animal doctor gave us. You should have seen the cage bouncing around on the trolley at the airport 🙂
Posted : October 31, 2008 1:24 am
Even though there were no more suggestions from this usually very active and knowledgeable forum -- press on!
Keep asking and looking and telling everyone you meet that you are trying to find an Apt. with your family and the dog. And do tell when you have found success - it has only been a few days - some of your upcoming island tasks may be just as frustrating - but "luck and hard work' will prevail.
Posted : October 31, 2008 5:07 pm
Too late now, but one option is leaving the dog with a friend state-side while you get settled.
Posted : October 31, 2008 5:28 pm
You might go to the local vets, like Dr. Williamson to introduce your dog & ask the staff & him there to let you know of any rentals that are pet friendly. He has a bulletin board & may let you post a request. This is the time of year when rentals get tighter because of more people coming down.
Posted : October 31, 2008 5:31 pm
It can't be said enough, tell EVERYONE that you're looking for a place. Sit up at the bar (even if you're not drinking) to order lunch and get talking to the bartender and other people that are sitting around. You never know who is going to know about a place for rent. On a prior post you said that you were going to homeschool your daughter and someone gave you the contact information for the group that does homeschooling over on St Thomas. Get in touch with them too about housing. Maybe they can send out an email to their whole group letting everyone know what you're looking for ... you never know who happens to know about an apartment that is available.
Posted : October 31, 2008 5:52 pm