Window repair - St Croix
Can anyone recommend some place that repairs window cranks on St Croix? Thanks.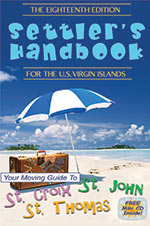 Thinking about moving to the Virgin Islands?The Settler's Handbook is a Indispensable Guide
The current 18th Edition, will help you explore your dream of island living. A solid reference book, it was first published in 1975. That's 40 years of helping people move to the Virgin Islands.
Order Today $17.95