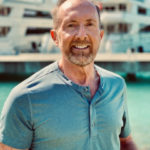 Joined: April 16, 2017 9:22 am
Last seen: February 25, 2021 7:15 am
Dave brings over three decades of real estate experience to Sea Glass Properties. As a Certified Residential Specialist (CRS), the highest credential awarded in residential sales by the National Association of REALTORS®, he maintains active real estate broker licenses in Michigan, Florida and the Territory of the Virgin Islands.
Dave's migration from the Great Lakes of Michigan, through the Space Coast of Florida, finally brought him to the paradise of these Virgin Islands upon spreading out some maps and asking himself one day, "where's the most beautiful place, while still living on U.S. soil, to call home?"
For relaxation Dave builds (and enjoys playing) acoustic guitars, patterned in the design tradition of the oldest guitar company in America (Martin 1833). He is also an avid hiker, leading others in exploring the many trails of the National Park in St. John and enjoys reading, cooking and wine tasting.
Dave's personal motto in real estate for over 30 years has been "Excellence Through Service," as he truly believes that if you are given the honor of serving others in achieving and obtaining what they're looking for, then yours will just naturally follow.
When asked what his most rewarding moments have been during his long real estate career, Dave says it's been those opportunities of servicing the many corporate relocation clients with their housing needs, as well as having the honor of being "part of the family" for so many of his long-time clients whose loyalty allowed him to be part of their lives as they transitioned from starter-to-move up-to-down sized homes.
Whether you're an in-bound or out-bound corporate transferee, or perhaps just starting to look for your very first home, maybe you're up-sizing or down-sizing, or even looking for a terrific investment property opportunity, Dave would be honored to serve you with excellence!
Dave Hemmings
Broker Associate
Sea Glass Properties
248-417-8280 (cell)
866-706-8649 (fax)
seaglassproperties.com
Certified Residential Specialist (CRS)
"Excellence Through Service"