Brave DOG needs a HOME (Pics)- STT
This adorable 18 month-old, female dog needs a good home. She is 3 legged because she chewed her own leg off after being chained to a fence! She wanted to get away from her horrible situation that badly! She was brought in to the Humane Society and just needs a loving family. Very mild tempered, probably not good with cats though, affectionate and even comes with her own stylish leash and collar after winning a place in the Adorable Dog contest at Barktoberfest today!
Please PM me if you are interested in more information. Thanks!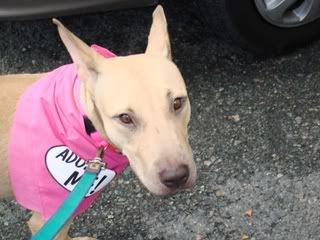 Topic starter
Posted : October 21, 2007 9:23 pm
Hey Jen,
I wish we could take her. Sorry we missed you at Barktoberfest, the boys had a birthday party to go to. I hope she finds a good home.
Kelly
Posted : October 21, 2007 11:25 pm
Jen, bless you for trying to find this little one a home...there's a Good Samaritan on STT that needs this girl. I'm sure even being a tripod hasn't slowed her down...best wishes on finding her a wonderful new home!
Posted : October 22, 2007 1:49 am
Posted : October 22, 2007 10:40 am
Thanks, Becky R. This dog has a great spirit!
Trade, I would guess she is 30-40 lbs if that. She's still gaining her strength back and is skinny for her stature.
Thanks,
Jen
Topic starter
Posted : October 22, 2007 12:06 pm
Topic starter
Posted : October 24, 2007 4:37 pm