STX Fire???
I heard there was smoke/fire on the East End of STX, possibly South Shore ... anyone know anything?
Topic starter
Posted : March 1, 2011 6:38 pm
Alert / WarningFire - Wildfire ...This is an ACTUAL WILDFIRE ALERT... Issued By: VITEMAAffected Jurisdictions: St. Croix County Headline: Firefighters Continue to Battle Wind-Driven Brush Fires on St. Croix; Motorists Advised to Proceed with Caution As of 4 p.m. firefighters continue to battle major brush fires at Estate Boetzberg on the East End of St. Croix and near Half Penney Beach on the south shore of the island. According to St. Croix District Fire Chief Angel Torres, all fire stations on the island are responding to the brish fires which are being driven by high winds. Hovensa's firefighters are also on standby in the event the Fire Service needs assistance to fight back the south shore blaze, which is less than five miles from the border line of the refinery's property. There is currently no immediate threat to homes in these areas, however, the Fire Service is advising motorists to proceed with caution while traversing through these areas.
Posted : March 1, 2011 7:42 pm
I'm getting the SMS text and email alerts from VITEMA and they say firefighters are facing wind-driven brush fires.
Posted : March 1, 2011 7:42 pm
Thank you VITEMA for alert! Everyone should sign up ! Pray for our firefighters!
Posted : March 1, 2011 7:55 pm
PSA to all smokers: STOP throwing your cigarette butts on the side of roads or in the brush!!!! :X
Posted : March 1, 2011 11:37 pm
Picture of the smoke from the STX brush fire.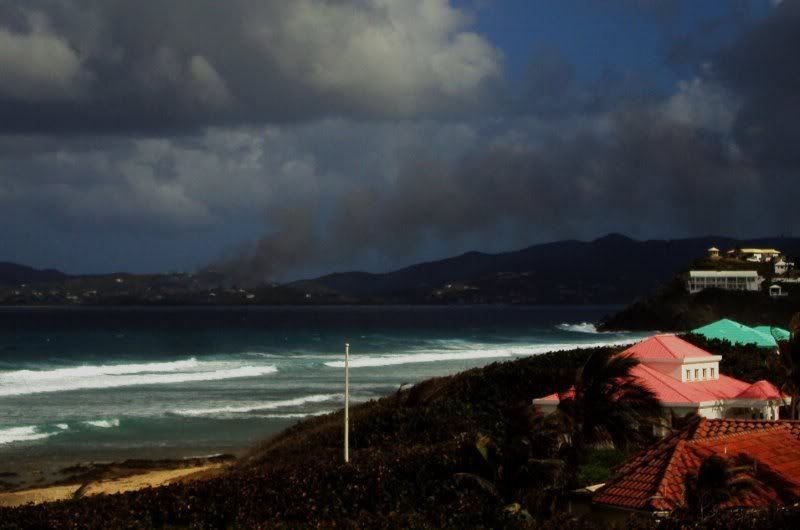 Posted : March 2, 2011 12:35 am
East end fire was in the higher parts of Boetzburg estate, above Egret Circle. FD did a great job of containing it! Kudos guys!
Posted : March 2, 2011 12:59 pm
Its that time of year...thankfully we got rained on early this morning to moisten things up! Boetzburg burns pretty much annually, its amazing how quickly the brush comes back.
The VIFD seems to do great work during these brush fires at ensuring property damage doesn't occur or is kept at a minimum.
Sean
Posted : March 2, 2011 5:28 pm
Can anyone see the burn area well enough to identify the northern/southern latitudes and eastern/western longitudes of the scene. My property is right in that area and I'm wondering if I could end up with a water runoff issue. Would the VI government take any action if there was a runoff issue? Or, would they contact me and ask me to take action?
Posted : March 2, 2011 7:48 pm
There were several burn areas...you might pin your place on google earth and share the pin here. I bet someone would check it out for you.
Posted : March 2, 2011 7:52 pm
doubt two fires at the same time were started by butts.
of course do not throw cigs out the window.
people love to start these fires intentionally
Posted : March 3, 2011 10:54 am